Phemex is one of the leading crypto derivatives trading platforms in the market, launched in November 2019. It has become one of the most preferred trading platforms for both retail and professional traders in a short span.
However, despite being a leading and preferred platform, the exchange lags in the product offering. It only offers to trade in perpetual futures and a lower leverage rate of up to 20X except for the BTC/USD contract, which affects the trading experience.
Therefore, if you are looking for exchanges providing a wide range of trading options with higher leverage, the following Phemex alternatives you can consider.
(2022's Most Popular Choice)

- Upto 100x Leverage on BTC

- Upto 50x Leverage on Other


- Upto 500x Leverage
- Deposit in: BTC & altcoins

- Free 25 USD Bonus




Get 20% on Your First Deposit




- 20x Leverage on Crypto
- $2200 Bonunes Bonunes
Best Phemex Alternative
#1. Bybit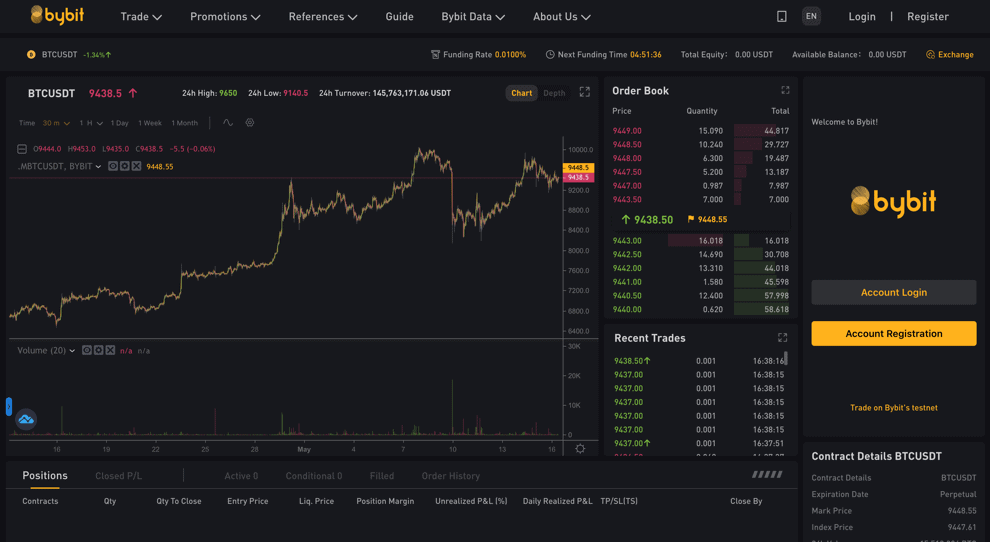 Bybit is a leading crypto derivatives trading platform launched in March 2018. It is known for changing the face of the crypto derivatives trading segment, which used to lack transparency and efficiency. 
It is one of the fastest-growing crypto derivatives trading platforms and has a registered user base of 1.6 million coins. Bybit offers a smart trading system, best-in-class market depth, and ultra-fast matching engine that helps it to provide a professional, smart and innovative trading experience to both retail and professional clients. 
The derivatives products currently available on the platform are inverse perpetual contracts, linear perpetual contracts, and inverse futures contracts (BTC/USD quarterly futures). And, you can trade with a maximum leverage of up to 100X. 
Trading fees on the platform are quite competitive and as per industry standards. It offers a maker rebate of 0.025% and charges a taker fee of 0.075%. 
Why choose Bybit?
Top 5 exchanges by trading volume

Advanced trading platform

24/7 multilingual customer support team

No-KYC exchange
Can't decide between Phemex and Bybit? Read our comparison Phemex vs ByBit Exchange
#2. StromGain
StormGain is an industry leader among the top cryptocurrency exchanges which has acquired the market in a very short time. Incorporated in mid-2019 in Seychelles it supports all the major digital assets like BTC, ETH, USDT, XRP, EOS, DOGE, SOL and many more.
Leverage depends on the trading volume of up to 500X on the BTC/USDT pair and 100X leverage on other major USDT trading pairs readily available on the exchange.
For the other trading pairs, it offers up to 50X leverage. StormGain puts minimum leverage of 5X on all trading pairs. The platform also offers all the major order types with state-of-the-art crypto charting systems and a robust yet subtle user interface.
The exchange's trading fee structure follows a flat-fee pricing model; with zero commission for trading and a profit share of 10% charged, the fee structure is quite affordable. Additionally, it charges a 5% deposit commission when using your debit/credit card, and a 0.1% fee is charged on withdrawals.
 Why choose StormGain?
Demo account

Smooth yet robust trading platform with top-notch charting systems 

High leverage

Responsive and dedicated customer support with military-grade security
#3. PrimeXBT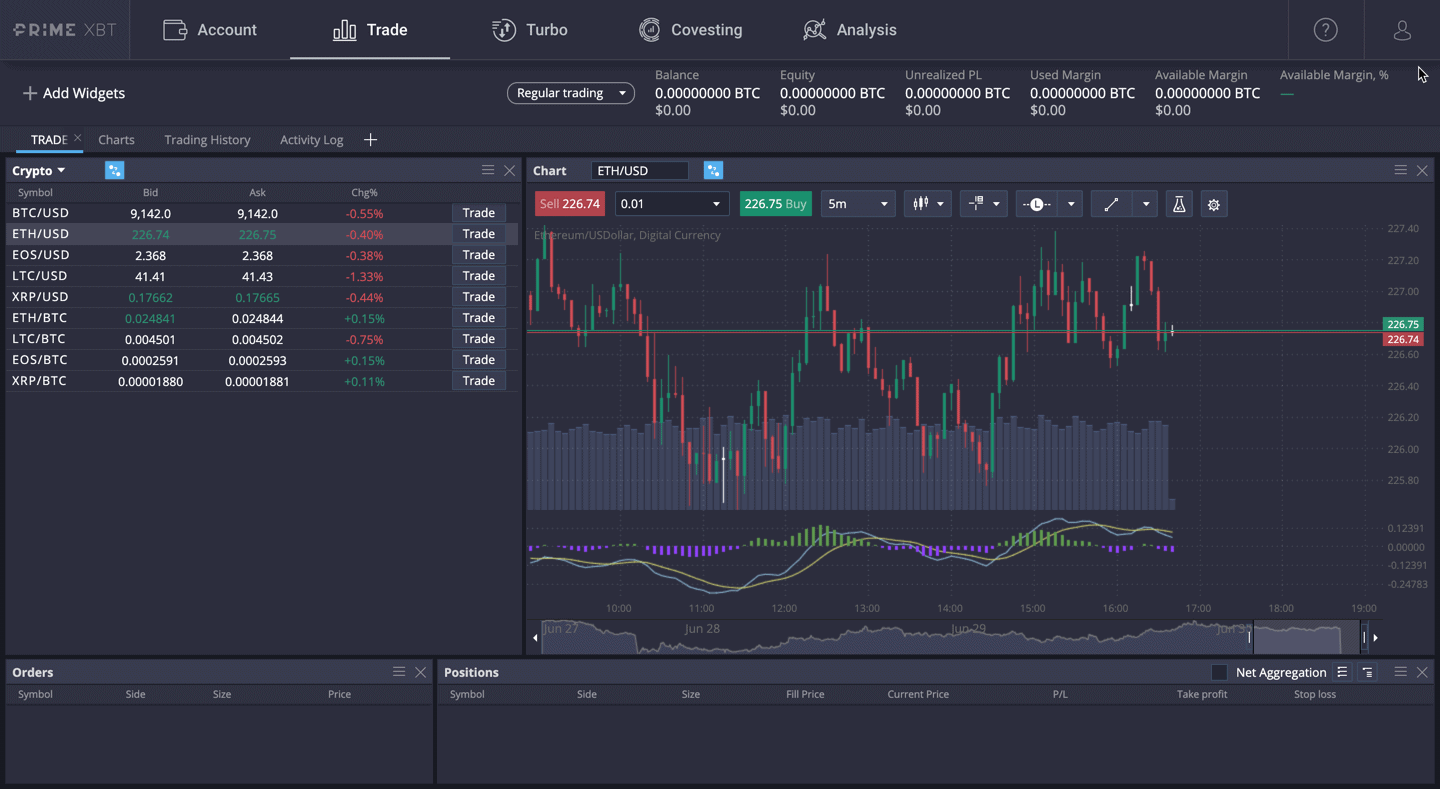 PrimeXBT is a dynamic multi-asset exchange that also specializes in cryptocurrency margin trading. Established in 2018 and registered in Seychelles, it has grown exponentially since its launch and gets an average daily trading volume of $545 million. ADVFN International Financial Awards awarded it the best margin trading platform. 
In the crypto derivatives segment, it offers to trade BTC/USD, ETH/USD, LTC/USD, EOS/USD, ETH/BTC, LTC/BTC, and EOS/BTC and offers a maximum leverage rate of 100X on each trading pair, which is first in the industry.
PrimeXBT platform offers both browser and mobile app-based trading platforms equipped with all the advanced charting functionalities, indicators, and analysis tools. Apart from this, the platform's average order execution speed is less than 7.12 ms, can execute more than 12000 orders per second, and have access to 12+ liquidity providers. 
 The trading fees on the platform are quite low and charge a commission of 0.05% per transaction. 
Why choose PrimeXBT?
High leverage rate

Access to the top-tier liquidity provider

Competitive fees

No-KYC exchange
#5. Binance Futures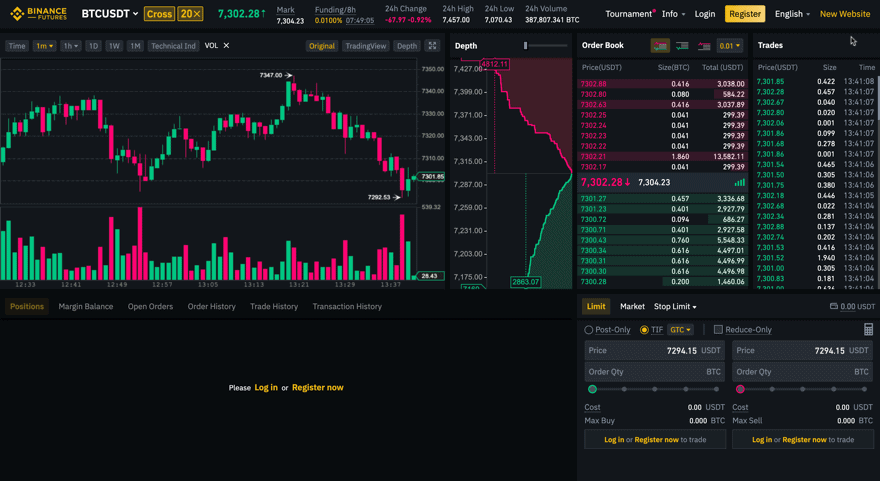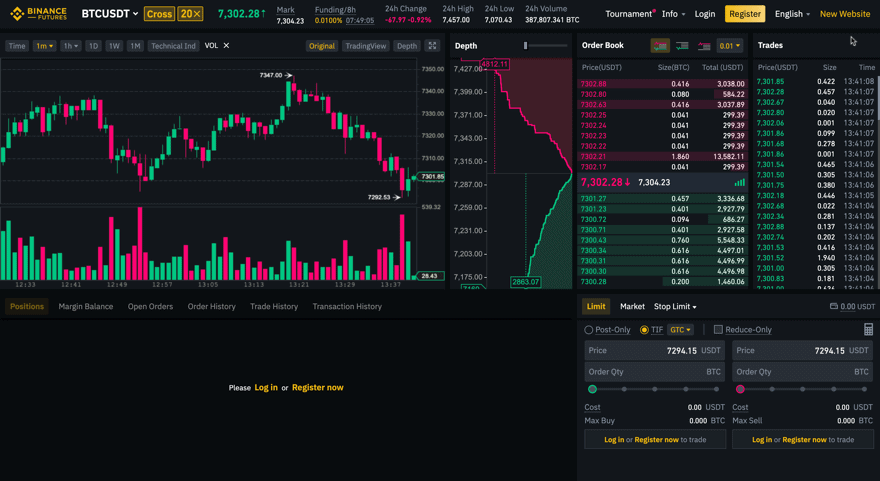 Binance Futures was launched in September 2019, and in a short span, it has established itself as an industry-leading platform. It gets an average daily trading volume of over $40 billion, which is twice that of the second-biggest exchange. 
It offers to trade in USDT-margined perpetual futures, COIN-M (BTC margined with or without expiry futures), leveraged tokens, and BTC options. The maximum leverage it offers is up to 125X. 
Binance Futures trading platform includes a wide range of trading tools and indicators, supports multiple advanced order types, unparalleled order book liquidity, etc. It has an industry-leading matching engine that can manage up to 100,000 TPS with minimal latency of 5 ms. 
Binance has a ten-tiered trading fee structure based on the last 30-day trading volume. The maker fee starts from 0.02%, and the taker fee is 0.04%. On USDT-M contracts and while paying through BNB tokens, Binance offers a 10% discount on the trading fee. 
Why choose Binance Futures?
Reputed and leading exchange

Highest leverage rate in the industry

A wide and diverse range of crypto derivatives products

Low trading fees
Read our detailed analysis: Phemex vs Binance Futures to decide the best trading exchange for yourself
#6. Kraken
Kraken is a US-based cryptocurrency exchange and has more than a decade of experience operating in this market. It has established itself as the most secure cryptocurrency exchange platform with digital ledger technology and offers trading in both the spot and futures market.
The exchange offers trading in only perpetual futures in the futures segment, including XBT/USD, ETH/USD, LTC/USD, BCH/USD, and XRP/USD, with maximum leverage of 50X. 
The exchange provides an intuitive and flexible trading interface that includes customizable workspaces, added tooltips, and simplified order forms. It also offers seamless transfers between Kraken spot and the Kraken futures market.
Kraken has an eight-tiered trading fee structure based on 30-day trading volume, starting from 0.02% as maker fee and 0.05% as taker fee. 
Why choose Kraken?
Good platform for beginners

Allows fiat deposits and withdrawals

Highly liquid platform

Low trading fees
#7. BitMEX
BitMEX is the first crypto exchange to popularize the concept of futures trading in cryptocurrencies with high leverage. Founded in 2014 and based in Hong Kong, BitMEX offers trading in perpetual futures, traditional futures, and Quanto futures with maximum leverage of up to 100X. 
The platform is suitable for professional traders and provides powerful streaming WebSocket API,  fully-featured REST API, BitcoinChartsAPI, and UDF API. It also provides two automated trading bots, BitMEX market maker (a version of Liquidbot) and FMZ, the largest algorithmic trading platform in China. 
To prevent loss of funds due to auto-deleveraging or due to erratic market movement, BitMEX uses an insurance fund to cover the losses from unfiled liquidation. 
Regarding trading fees, BitMEX charges 0.075% as a taker fee and offers a maker rebate of 0.025%. 
Why choose BitMEX?
Established and reputed exchange

Series of features for professional traders

Offers high liquidity

Secure exchange
#8. Deribit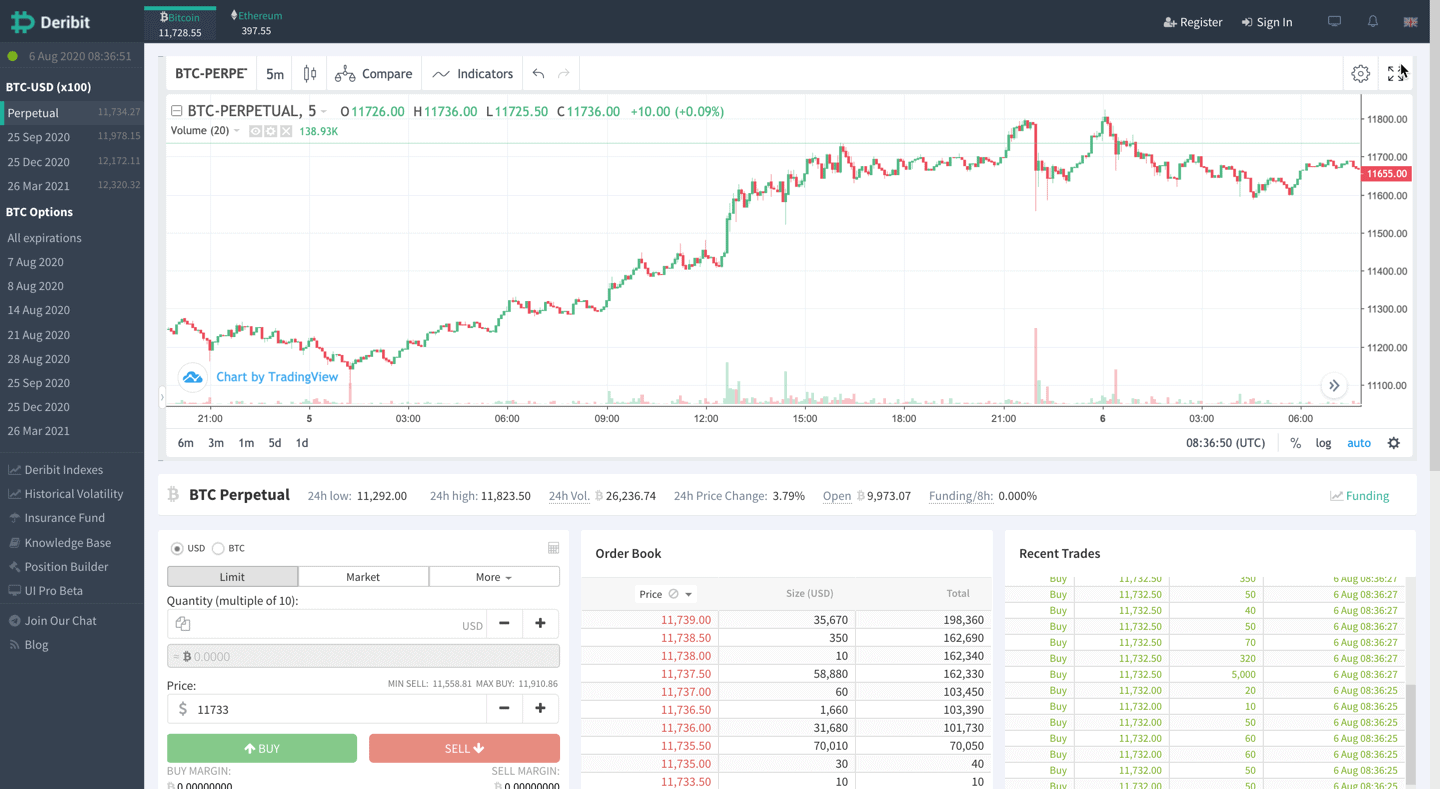 Deribit is a Netherlands-based institutional-grade crypto derivatives trading platform launched in 2014, and the platform is suitable for professional traders. 
It offers to trade in Bitcoin and Ethereum options and perpetual futures with up to 100X leverage. You can trade on Deribit via its web-based platform, mobile, or using pro-trading software like FMZ Quant, HAASONLINE, and Actant. 
The exchange allows you to trade various options strategies with up to 10X leverage and has an ultra-fast order-matching capability with a latency of less than 1ms. It also has a robust risk-management framework with real-time auditing, liquidation, and risk management. 
Regarding trading fees, on BTC weekly futures, it offers a maker rebate of  0.01% and charges a taker fee of 0.05%; on BTC and ETH perpetual, the maker fee is NIL, and the taker fee is 0.05%. And, on BTC and ETH options, the maker and taker fee per contract is 0.03%. 
Why choose Deribit?
Industry-leading security and transparent team

Suitable for professional traders

Low trading fees

Robust risk management framework
Conclusion
The selection of exchange should be based on your trading preference and objectives.
For example, if you are a retail trader and a beginner in the segment, Bybit and PrimeXBT are best. For professional and experienced traders, platforms like Bybit, Binance Futures, and BitMEX offer the best value.
And before signing up, always use the demo version to check the platform interface and capabilities.