OKEx is one of the biggest and leading cryptocurrency exchanges in the market, offering trading services in both the spot and derivatives segments.
If you are looking for a better option, you can consider the following list of OKEx alternatives.
(2022's Most Popular Choice)

- Upto 100x Leverage on BTC

- Upto 50x Leverage on Other


- Upto 500x Leverage
- Deposit in: BTC & altcoins

- Free 25 USD Bonus




Get 20% on Your First Deposit




- 20x Leverage on Crypto
- $2200 Bonunes Bonunes
Top OKEx Alternative
#1. Bybit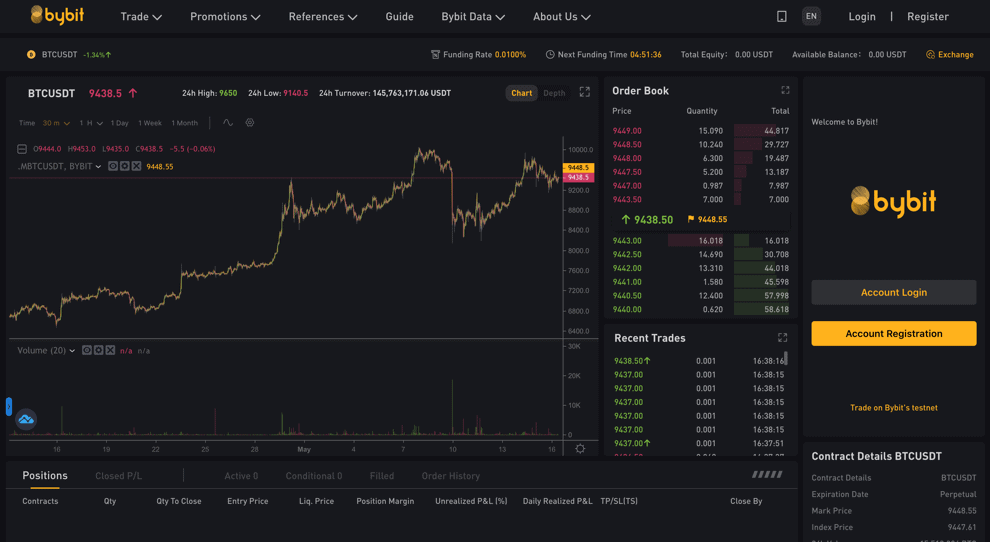 Bybit is a leading crypto derivatives trading platform ranked fifth in top crypto derivatives exchanges by trading volume. 
The exchange is known for its innovative and smart trading platform that offers a superior trading experience to retail and professional traders worldwide. Some of the platform's key features include a smart trading platform system, deep liquidity, a powerful order matching engine that can process 100K TPS, an advanced pricing system, and a 99.99% system functionality rate. 
It offers to trade in inverse perpetual contracts, linear perpetual contracts, and inverse futures contracts (BTCUSD quarterly only) with up to 100X leverage.
Regarding trading fees, Bybit has a flat fee rate structure for all its derivatives contracts. It offers a maker rebate of 0.025% to all market makers and charges a taker fee of 0.075% from market takers.
Why choose Bybit?
Easy sign-up process because of No-KYC requirement

Smart and powerful trading platform with no downtime

Offers deep liquidity

Responsive 24/7 multilingual customer support team
#2. StromGain
StormGain is a Seychelles-based crypto derivatives exchange which started its services in mid-2019.
It offers a 50,000 USDT funded demo account and is a member of the Blockchain Association of the Financial Commission. 
StormGain offers volume-dependent leverage of up to 500X on the BTC/USDT pair and 100X leverage on other major USDT pairs. For the other trading pairs, it offers up to 50X leverage and minimum leverage of 5X on all trading pairs. 
StormGain also offers all the major order types with state-of-the-art charting systems consisting of all the technical indicators, trading tools and precise data of the market.
StormGain's trading fee has a fixed structure; with zero commission for trading and charging a profit share of 10% on all profitable trades. The fee structure is relatively on the affordable side. Moreover, it charges a 5% deposit commission when using your debit/credit card, and a 0.1% fee is charged on withdrawals.
Why choose StormGain?
Demo account offering

Smooth yet powerful trading platform 

High leverage offering

Responsive and dedicated customer support with top-notch security
#3. Phemex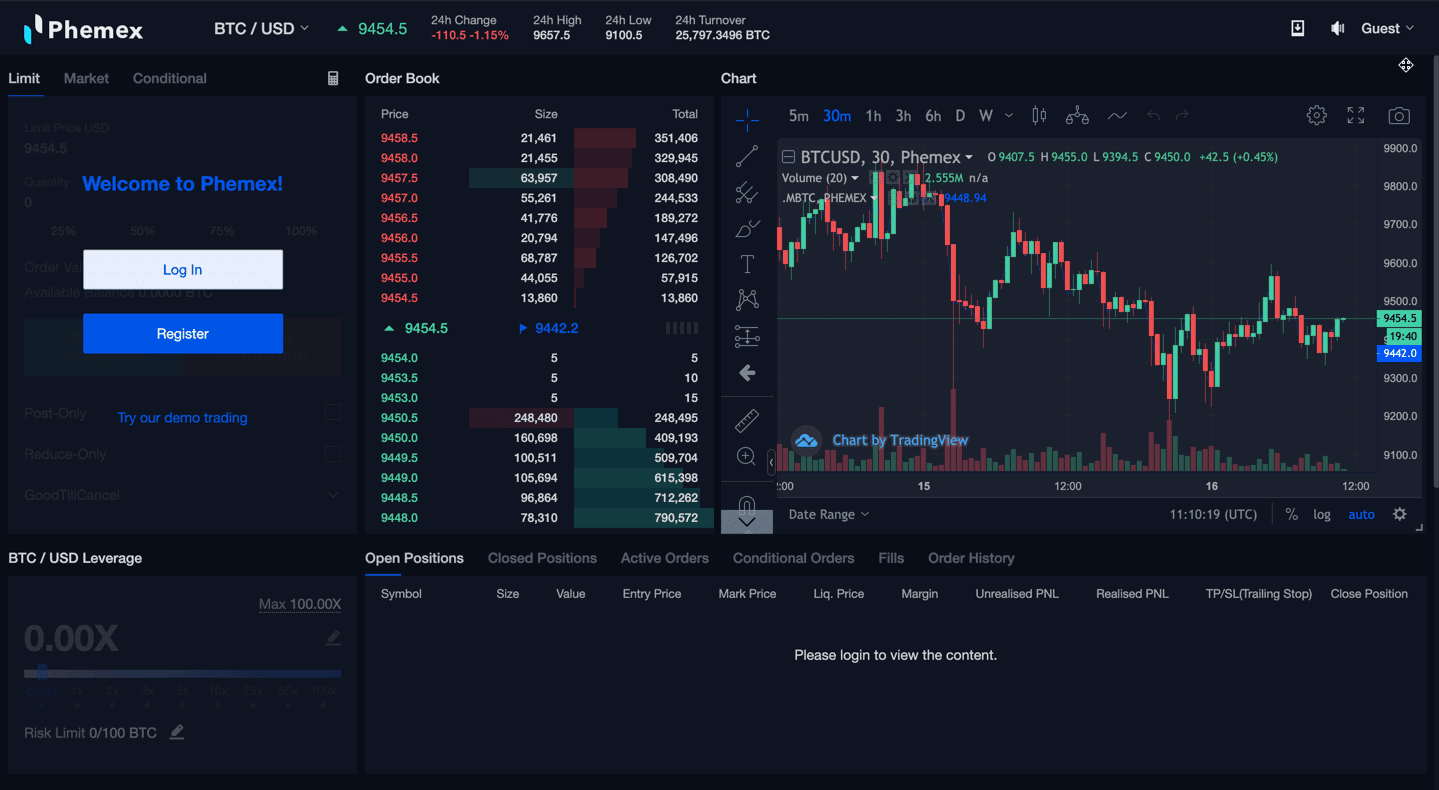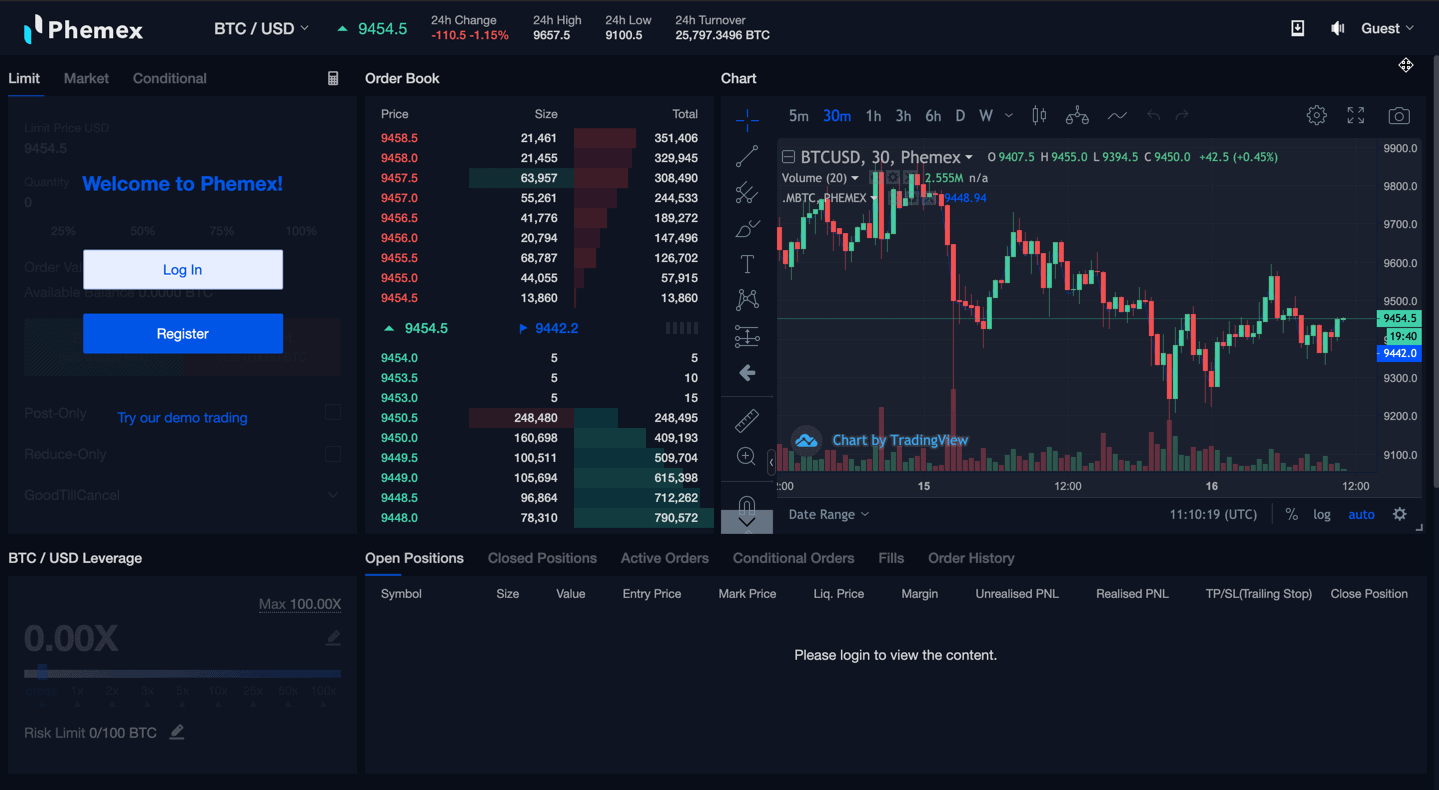 Launched in November 2019, Phemex has established itself as a leading crypto derivatives trading platform in a very short period. 
The platform offers trading in only perpetual futures contracts in 15 leading cryptocurrencies with a maximum leverage of up to 100X, all margined and settled in the USD.
Phemex is known for its powerful trading platform, which can process over 300,000 trades per second and has an order response time of less than 1ms and access to 30+ integrated liquidity providers making it one of the fastest cryptocurrency exchanges in the market.
The platform also caters to professional and institutional traders' needs by offering advanced functionalities like FIX API for institutional traders, sub-accounts feature for quantitative traders, and L3 market data. 
Phemex has a very competitive trading fee structure. It charges a taker fee of 0.075% and offers a maker rebate of 0.025%.
Why choose Phemex?
Non-KYC exchange

Supports multiple advanced order functionality

Suitable for both retail and institutional traders

Good customer support
#4. PrimeXBT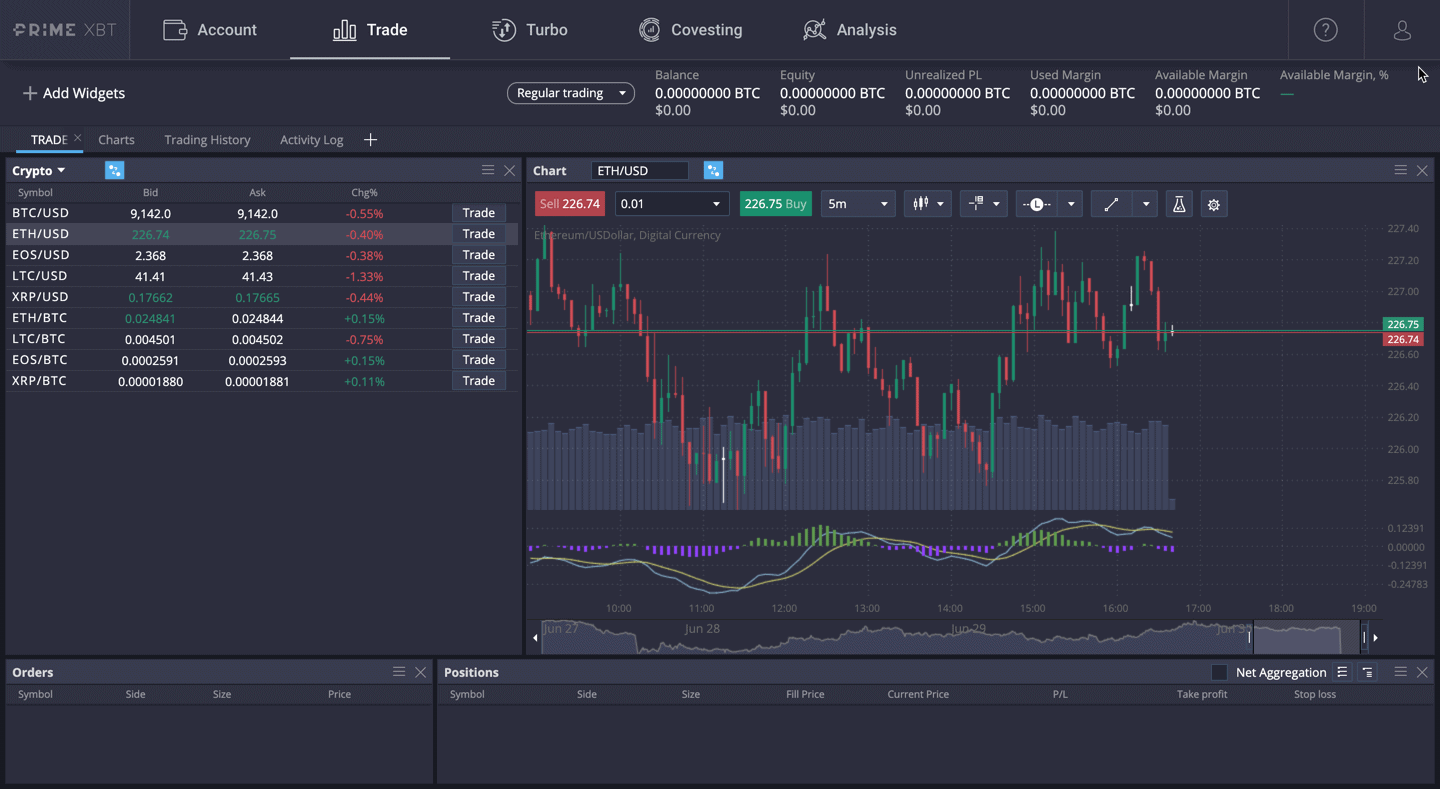 Established in 2018 and registered in Seychelles, PrimeXBT is a popular crypto-derivatives trading platform. The exchange boasts a powerful trading platform loaded with important trader tools, making it suitable for both retail and professional traders.
The exchange has been awarded as the best forex and crypto broker by Forex Awards and the best platform for margin trading by ADVFN International Financial Awards. 
PrimeXBT offers to trade in Bitcoin, Litecoin, Ripple, Ethereum, and EOS with up to 100X leverage. With access to 12+ liquidity providers, the orders are filled instantly and mostly at requested quotes. In 2020, the exchange processed 74.1% of the clients' market order at the requested quote, which is significantly higher than the industry average. 
Other platform features include ultra-fast order execution capability with an order response time of less than 7.12 ms, an industry-leading trade matching engine with real-time risk management, and the platform infrastructure is powered by AWS, which helps it to provide a safe and efficient trading environment.
The exchange charges a flat fee of 0.05% on the types of crypto trades regarding trading fees. 
Why choose PrimeXBT?
No-KYC verification, thus providing 100% anonymous account

Powerful trading platform integrated with advanced features

Access to top-tier liquidity providers

Low trading fee
#6. Binance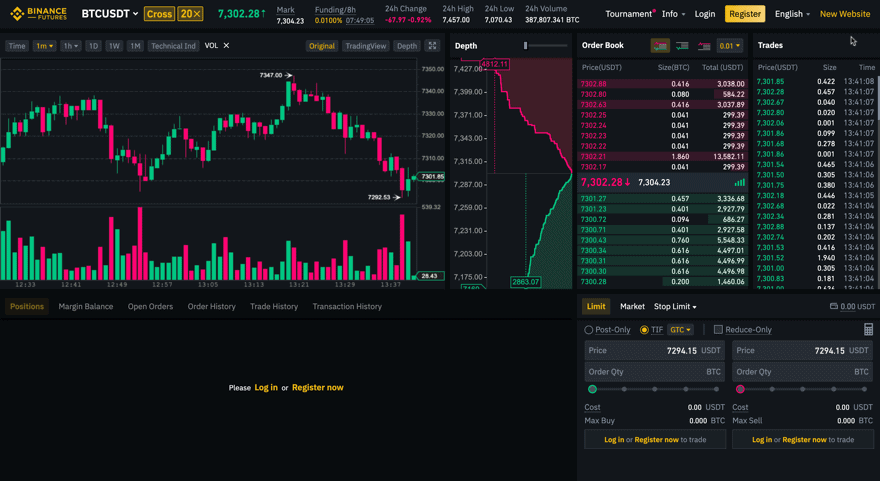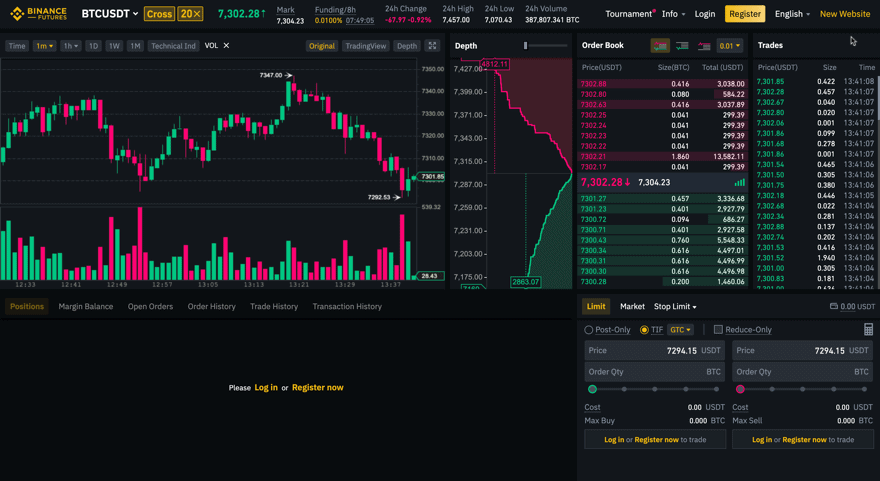 Binance Futures is the world's largest crypto derivatives trading platform and registers an average daily trading volume of over $40 billion, which is more than double that of the world's 2nd largest crypto derivatives trading platform. 
The exchange allows trading in a diverse range of crypto derivatives products that include USDT-margined perpetual futures, COIN-M (token margined with or without expiry futures contracts), BTC Options, and leveraged tokens. 
Binance Futures offers maximum leverage of up to 125X, which is the highest in the industry. It also features a powerful trading platform that boasts a wide range of trading tools and indicators, multiple order types, a responsive trading platform having a latency rate of less than 5ms, the ability to process a large volume of trades, etc. 
The trading fee is very competitive and has a 10-tiered fee structure starting from 0.02% as maker fee and 0.04% as taker fee. On USDT-margined futures contracts, Binance offers a discount of 10% and when the trading fee is paid using the BNB token.
Why choose Binance Futures?
Reputed crypto exchange with industry-leading security

Offers the highest leverage in the industry of 125X

Highly liquid platform

Suitable for both retail and institutional-grade traders
#7. Kraken
Kraken is one of the oldest cryptocurrency exchanges in the market, established in 2011 and based in the US.
The exchange platform is known for its high liquidity, industry-leading security measures, and advanced features and functions. 
The platform's futures segment offers to trade in five perpetual futures contracts, including XBT/USD, XRP/USD, ETH/USD, LTC/USD, and BCH/USD, offers maximum leverage up to 50X. 
The trading fees depend on your last 30-day trading volume and start from 0.02% as maker fees and 0.05% as taker fees. 
Kraken requires its users to complete the identity verification process before starting to trade.
Why choose Kraken?
Reputed and secure platform

Allows fiat deposits and withdrawal

Competitive trading fee

Advanced trading options
#8. Deribit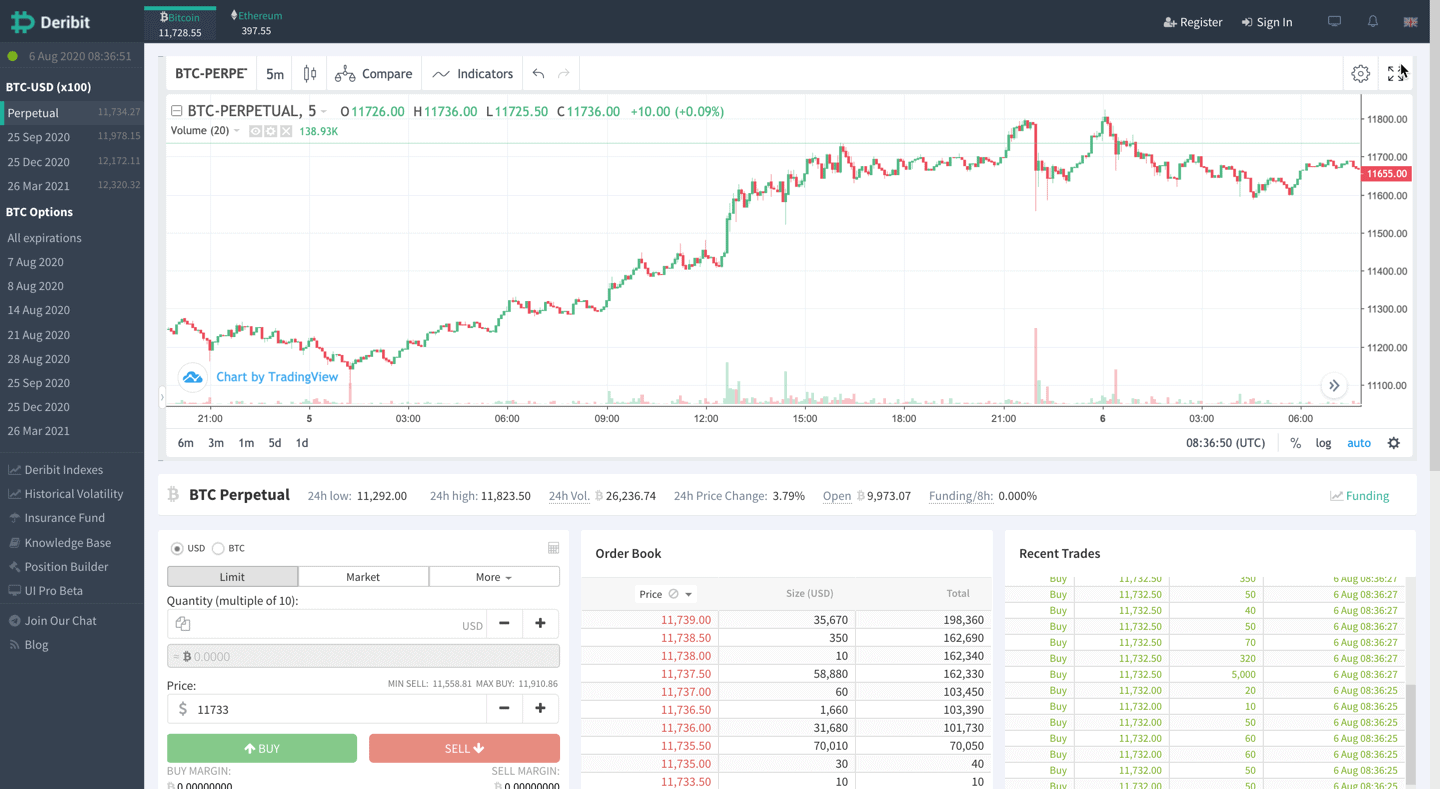 Deribit is a Netherlands-based crypto derivatives exchange, which started its services in June 2016.
It offers to trade in Bitcoin and Ethereum perpetual, futures, and options and offers maximum leverage of up to 100X. 
The exchange platform is suitable for experienced traders and supports multiple advanced trading software like FMZ Quant, Haasonline software, and Actant. It also offers a range of trading tools, statistics, technical indicators, and key data related to futures and options trading. 
Regarding trading fees, on BTC weekly futures contracts, it offers a maker rebate of 0.01% and charges a taker fee of 0.05%. For BTC and ETH perpetual, it charges only taker fees of 0.05%, and the maker fee is NIL. For BTC and ETH options, it charges 0.03% as a trading fee for all contract types. 
Why choose Deribit?
Anonymous accounts

Suitable for professional traders

Competitive trading fees

Good customer support
Conclusion
The above-listed seven crypto derivatives exchange platform are some of the best in the market and offers similar features and functionality to OKEx.
But, exchanges like Bybit, and Binance Futures score ahead in platform functionality and product offering. Also, the platforms are suitable for both beginners and experienced traders in the market.