KuCoin is one of the leading and fastest-growing crypto exchanges in the market that was launched in 2017. Ant Financial and iBox Pay Backed allows users to trade in a wide range of crypto assets in all market types. 
In the futures segment, KuCoin allows trading in perpetual futures contracts and quarterly futures with up to 100X leverage.
However, despite being a good and stable platform, KuCoin lags due to low trading volume and higher trading fees, making it an unfitting platform for experienced traders. 
In this blog, we will look at some of the KuCoin alternatives and check which is best. 
Best KuCoin Alternative

#1. Bybit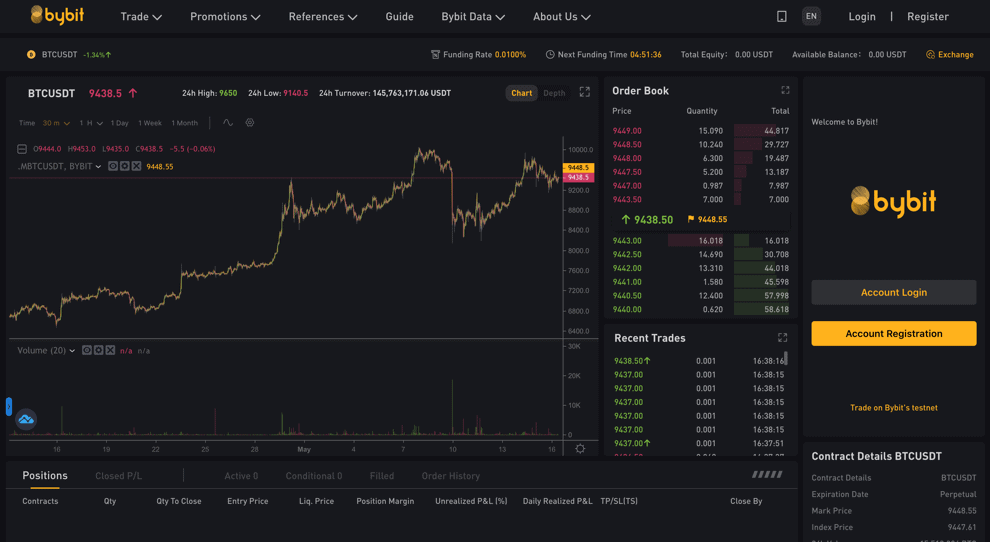 Established in 2018, Bybit is one of the fastest-growing crypto derivatives exchanges in the market and has over 1.6 million registered users. The exchange is consistently ranked within the top 5 list of crypto derivatives exchanges by trading volume.
It offers trading in inverse perpetual futures contracts, linear perpetual futures contracts, BTCUSD quarterly inverse futures contracts, offering leverage of up to 100X.
The exchange is known for its smart trading system, deep liquidity, ultra-fast trade matching engine with a capacity to handle 100K TPS, state-of-the-art pricing system to avoid unfair liquidation, and powerful APIs that refresh market data every 20ms.
The platform offers a maker rebate of 0.025% to market makers regarding trading fees a taker fee of 0.075%  from market takers.
Why choose Bybit?
No-KYC exchange

Smart and feature-rich trading platform

Suitable for both retail and experienced traders

Competitive trading fee

Wide range of trading products
#2. PrimeXBT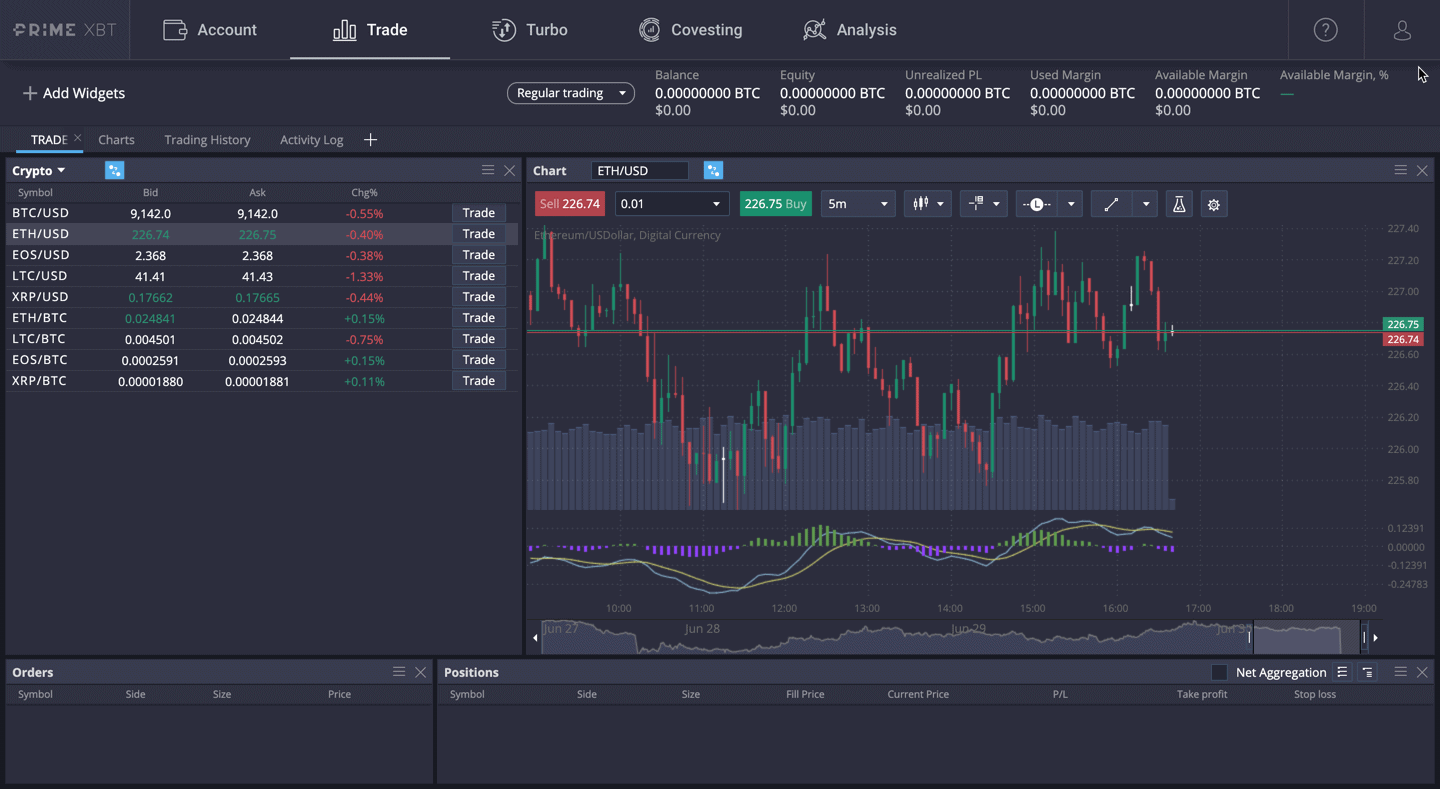 PrimeXBT is a Seychelles registered crypto exchange and is known for its multi-asset trading environment. However, it is popular for its margin trading and was awarded as the best platform for margin trading by ADVFN International Financial Awards. 
The exchange allows margin trading on top cryptocurrencies, including Bitcoin, Litecoin, Ethereum, and EOS, with up to 100X leverage on all trading pairs.
PrimeXBT has a web-based trading platform and has advanced features and tools for traders. It includes customizable layouts, professional charts, multiple order types, over 90 inbuilt indicators, real-time account management, and the most important, copy trading feature.
Apart from all the features, the exchange provides deep liquidity, allows placing trades directly from the charts, multi-monitor platform functionality, and 24/7 customer support. 
The platform applies a flat trading fee of 0.05% on types of contracts.
Why choose PrimeXBT?
No-KYC exchange

Advanced platform functionality

Up to 100X leverage on all trading pairs

Competitive trading fee

Platform interface suitable for both beginners and professionals
#4. Phemex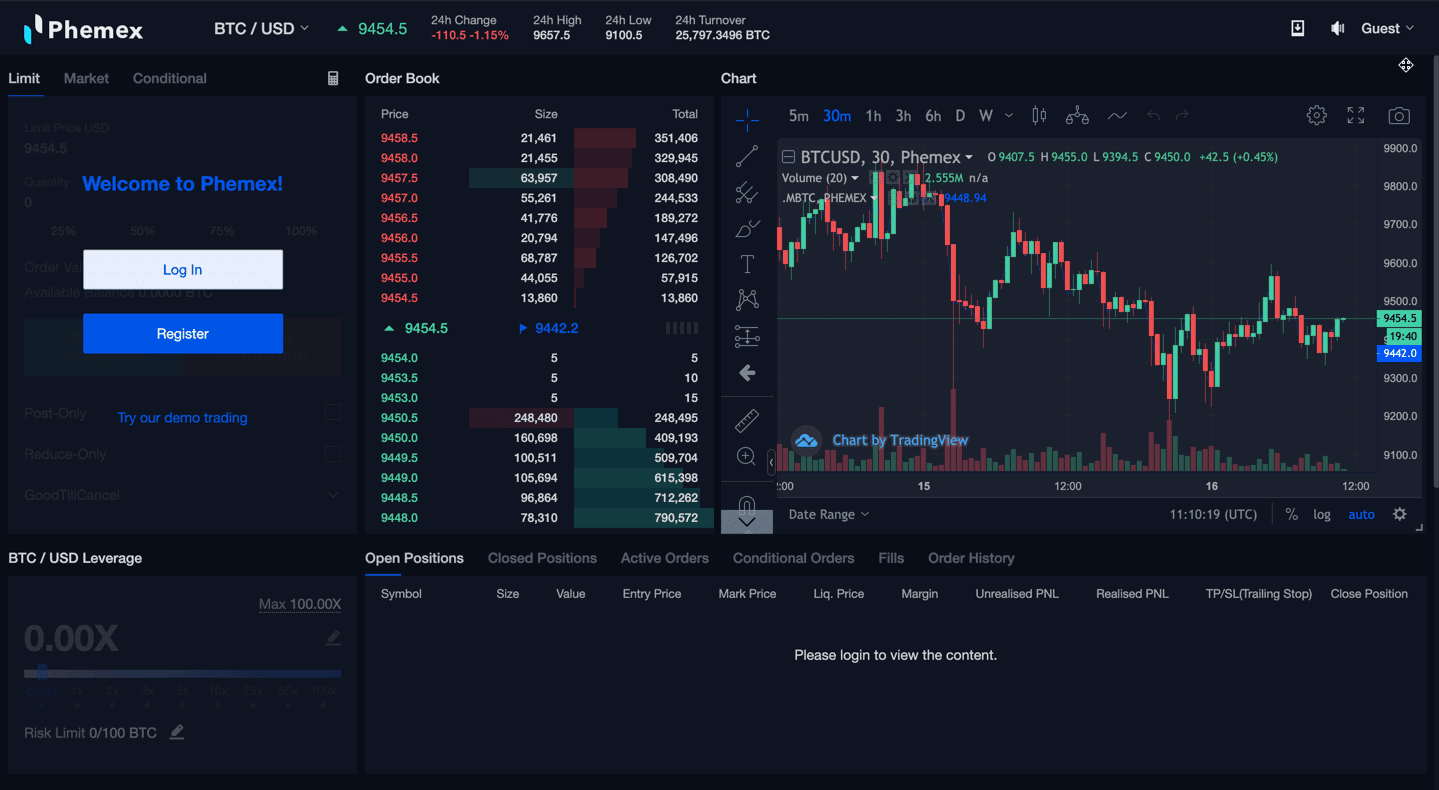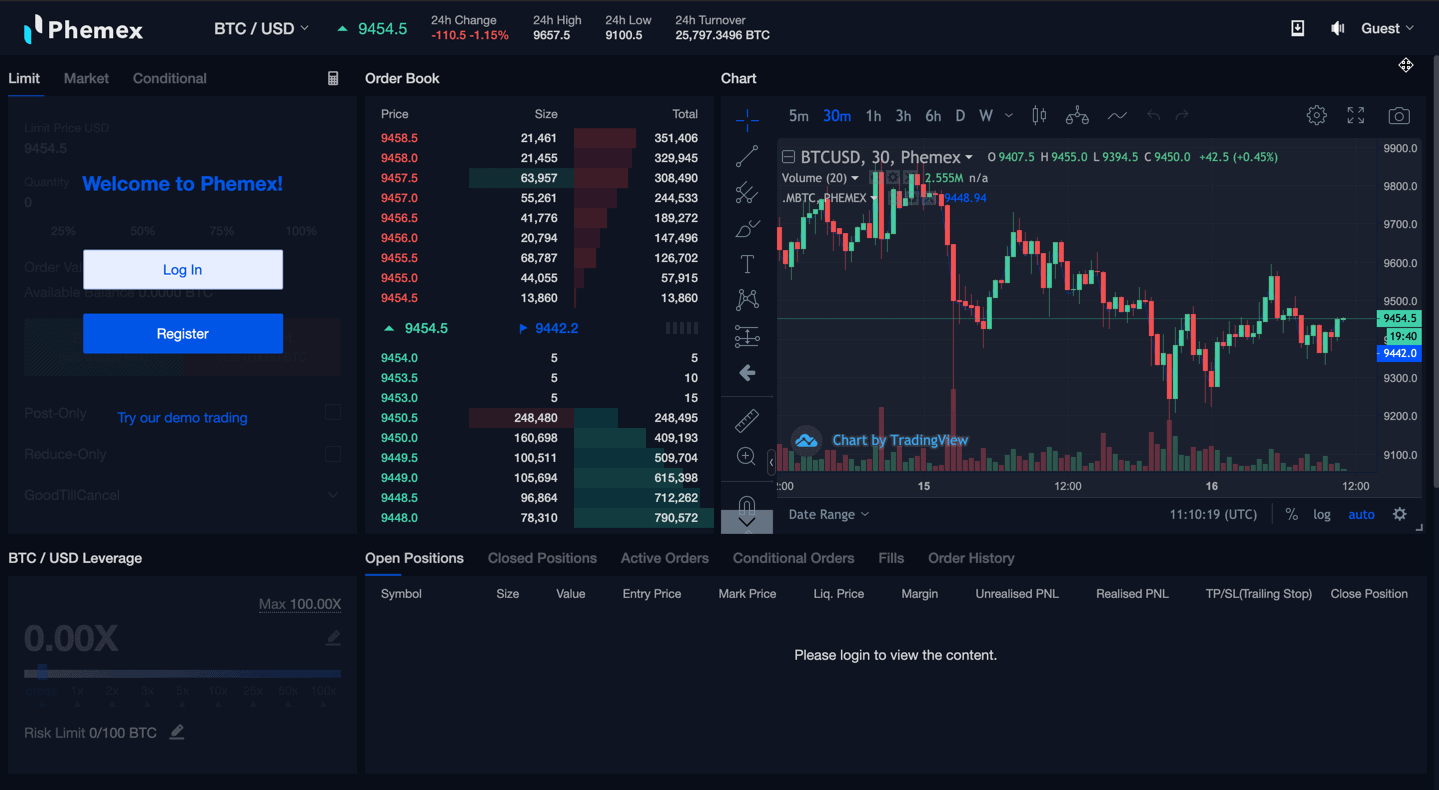 Phemex is a high-speed crypto derivatives exchange based in Singapore, developed by eight ex-Morgan Stanley executives, and launched its services in December 2019. 
It offers perpetual futures in 15 different cryptocurrencies, including all the leading ones. It offers leverage of up to 100X on BTC/USD pairs and up to 20X leverage on remaining trading pairs. The trading fee offers a maker rebate of 0.025% and charges a taker fee of 0.075%.
The platform features 30+ integrated liquidity providers that provide a deep order book that can execute over 300,000 transactions per second and has an order response time of fewer than 1 millisecond and industry-leading platform security architecture. 
Why Choose Phemex?
No-KYC exchange

High-performance platform and advanced functionalities

Deep liquidity

Strongest wallet security

Live 24/7 multilingual customer support team
#5. Binance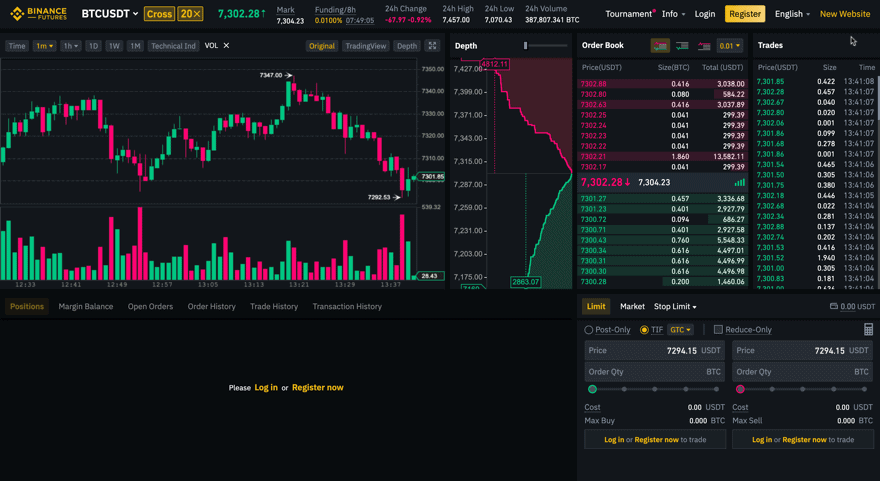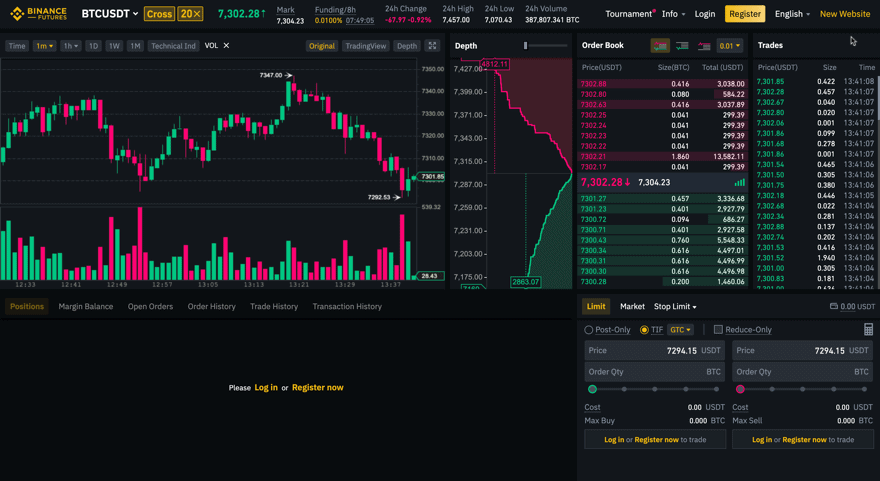 Binance is the world's leading cryptocurrency exchange offers the widest range of tradable products in all market types, including the derivatives segment. 
The derivatives segment of the exchange clocks over $40 billion in daily trading volume, which is the highest in the industry and double from the second-biggest exchange. 
Through Binance, you can trade USDT margined perpetual and quarterly futures contract using with up to 125X leverage, COIM-M futures (Bitcoin-margined perpetual futures), Bitcoin Options, and Binance Leveraged Tokens, which allows you to take a leveraged position (up to 3X) in cryptocurrency that can be traded in the spot market. 
In the cryptosphere, Binance is known for its stable and high-performance trading platform. Its trade matching engine can execute over 1.4 million TPS and has an order response time of less than 5 ms. 
Regarding trading fees, it has a ten-tiered fee structure based on 30-day trading volume. For the zero level or first level (VIP 0), Binance charges a maker fee of 0.02% and a taker fee of 0.04%. When paid using the BNB token, traders are offered a discount of 10%. 
Why choose Binance?
No-KYC exchange

Widest range of tradable products

Offers the highest leverage in the industry

Stable and powerful trading platform

Competitive trading fee
#6. Kraken
Kraken is one of the world's oldest crypto exchanges in the market, established in 2011, and has established itself as one of the secure destinations for trading and investing in cryptos.
It is a US-based exchange and boasts a high level of liquidity. The exchange offers to trade top cryptocurrencies with up to 50X leverage. It offers to trade in perpetual futures contracts, including XBT/USD, ETH/USD, LTC/USD, BCH/USD, and XRP/USD.
The exchange platform is suitable for all types of traders and has a simple and intuitive platform. Regarding trading fees, it has an eight-tier trading fee structure based on 30-day trading volume. The initial level having a cumulative trading volume of less than $100,000 has a maker fee of 0.02% and a taker fee of 0.05%.
Why choose Kraken?
Reputed and secure trading platform

Fiat support

Deep liquidity

Good customer support
#7. Deribit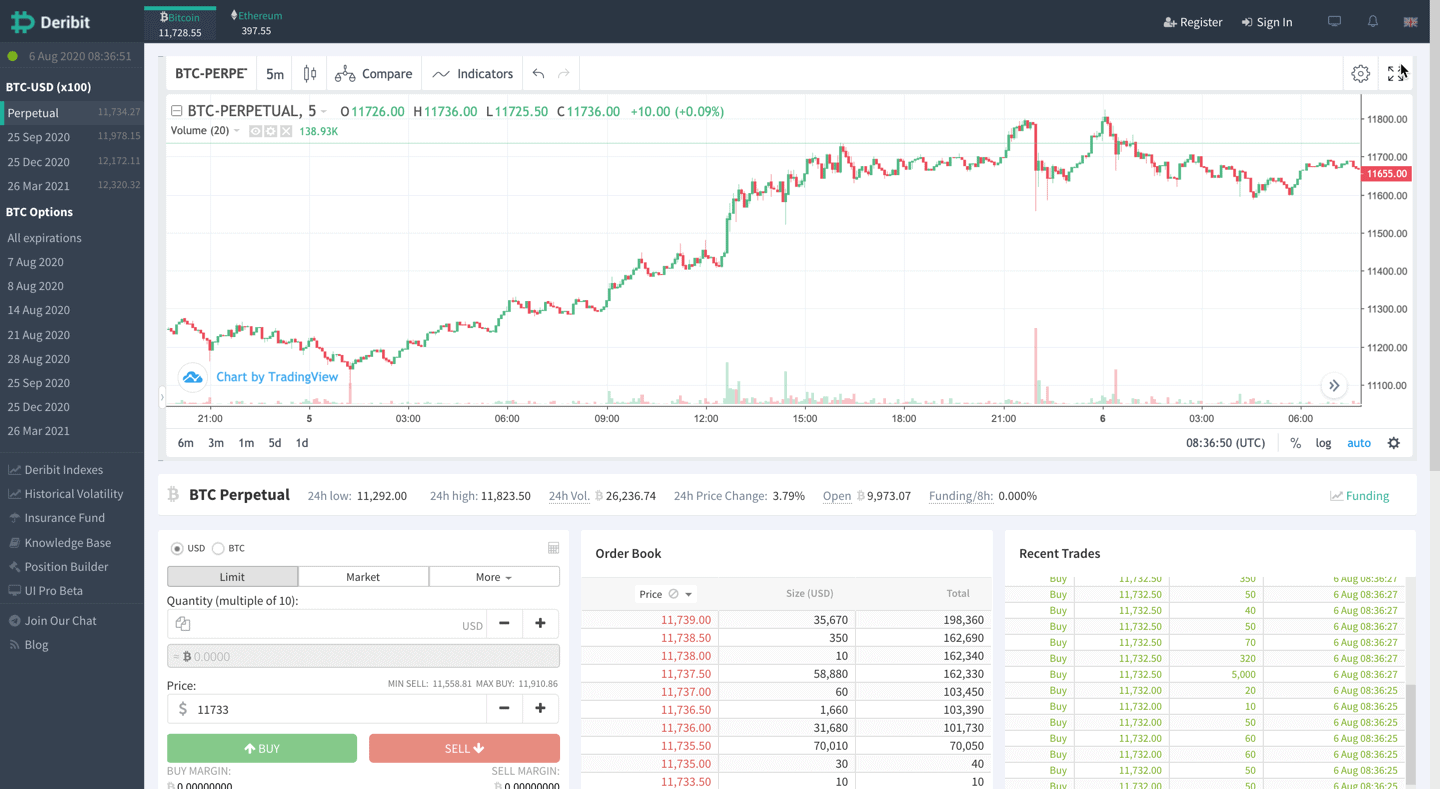 Deribit is an institutional-grade crypto exchange that offers futures and options trading in Bitcoin and Ethereum with up to 100X leverage. 
You can trade via the web interface, mobile, or through the fastest API in the industry. It supports trading software, including FMZ Quant, HAASONLINE for pro-trading. Deribit is also the fastest exchange in the world, with a latency of less than 1 millisecond. 
Regarding trading fees, for BTC weekly futures, it offers a maker rebate of  0.01% and charges a taker fee of 0.05%. On BTC and ETH perpetual, the maker fee is NIL, and the taker fee is 0.05%. And, on BTC and ETH options, the maker and taker fee per contract is 0.03%. 
Why choose Deribit?
No-KYC exchange

Powerful and reliable trading platform

Competitive trading fee

Suitable for professional traders
Conclusion
The exchange platform must be highly liquid in the crypto derivatives segment and have a responsive trading platform, apart from diverse tradable products.
On this scale, Bybit and Binance perfectly fit in and have industry-leading platform functionalities that effectively tap into the market opportunities and succeed in the market.