BitMEX Alternatives: Exchanges Like BitMEX In 2020
BitMEX is a very old name in the crypto derivatives segment and is considered as a big boy of crypto trading. And, the main reason for its success is because of its deep liquidity and faster order matching, no matter the size of the order. The exchange handles a daily trading volume of over $2 billion, which is quite astonishing.
As a crypto derivatives platform, BitMEX has covered many miles, setting benchmarks for other players. However, in the recent past, many exchanges have emerged as a suitable alternative to BitMEX, offering an enhanced trading experience.
Therefore, let's check out the top 7 BitMEX alternatives to try in 2020.
Top Alternatives For BitMEX 
1. PrimeXBT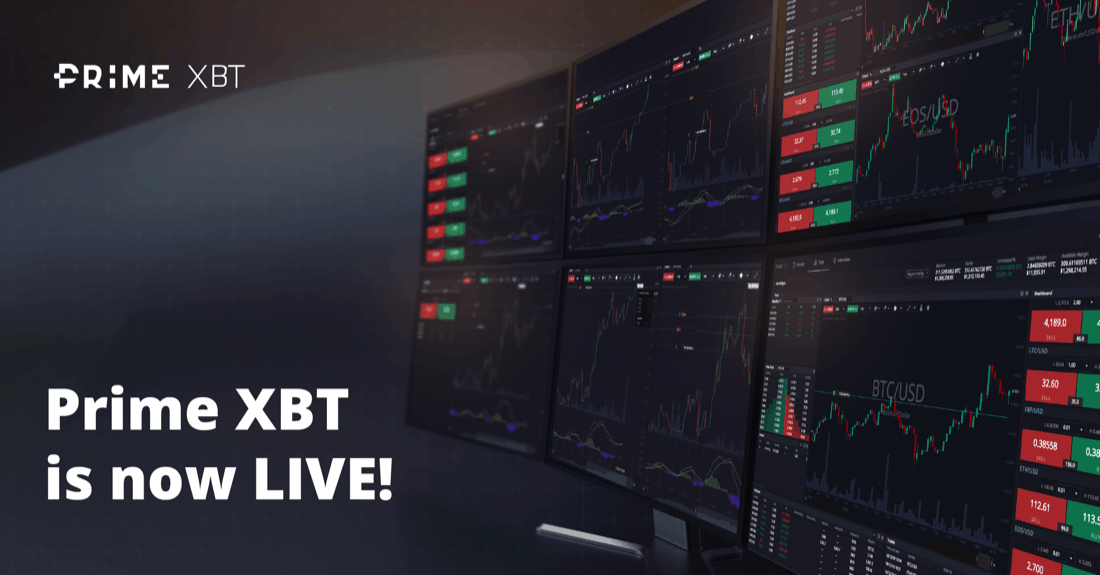 Founded in 2018, PrimeXBT has emerged as a preferred alternative to BitMEX. It offers trading options in 30 plus assets including cryptocurrencies, stock indices, commodities, and forex.
The crypto assets include 9 different crypto-fiat and crypto-crypto trading pairs offering max leverage of up to 100X. The exchange has an average daily trading volume of $545 million and has a pool of over 12 liquidity providers for seamless trading experience and faster order execution. The exchange has executed 74,1% of client market orders at the requested quote in 2019, which is much higher than the industry average.
PrimeXBT offers five standard order types to its users, viz, limit order, market order, stop market order, protection order, and one-cancels-the-other (OCO) order. It follows a flat fee per trade pricing model with a trading fee fixed at 0.05% for all types of crypto futures contracts. The daily funding rate (overnight financing rate) for both long and short positions is 0.083% and has a withdrawal fee of 0.0005 BTC.
The exchanges do not require any sort of identity or KYC verification process to set up a trading account or for withdrawals. And, the exchange is supported in over 170 countries except for the USA due to unfavorable local laws. 
Want to know more? You can always check out our detailed PrimeXBT review
Why choose PrimeXBT?
Advanced trade settings

Low trading fees

Wide range of trading assets including major altcoins

Lowest trade slippage percentage in the industry
2. Phemex
Phemex is the latest entrant to the block and features a very powerful trading platform, designed to effectively handle the needs of emerging market conditions. Founded by ex-Morgan Stanley executives, the exchange has successfully attracted the attention of traders worldwide.
Claims to be the world's fastest exchange, it can process 300,000 TPS with the latency speed of 1 millisecond. The exchange supports both BTC and USD settled contracts. USD settled contracts ease the trading and risk-mitigation process. Apart from this, it supports six different cryptocurrencies including BTC, ETH, XRP, LTC, LINK, and XTZ, all paired against the dollar.
It offers leverage of up to 100X on BTC/USD pair and up to 20X on the rest of the crypto trading pairs. In respect to the trading fee, it offers a maker rebate of 0.025% and charges a taker fee of 0.075%. It has a withdrawal fee of 0.0005 BTC per withdrawal. And, for registration or account setup, no KYC or identity verification is required.
Soon, Phemex plans to provide L3 market data and traditional financial products like stocks, indices, commodities, forex, etc.
Want to know more? You can always check out our detailed Phemex review
Why choose Phemex?
BTC and USD settled contracts

High platform performance and stability

Advanced trading platform with state-of-the-art FIX API

Good affiliation program
3. StormGain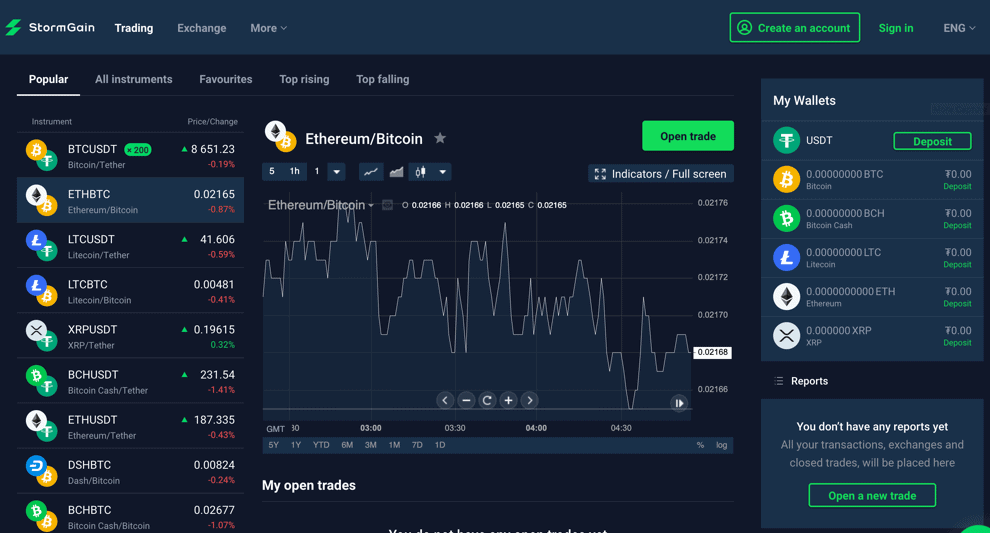 The exchange is designed for serious traders, offering them the capabilities that other exchanges fall short of. With its solid platform design, high leverage on crypto futures contracts, and low trading fees, the exchange has shot to fame in a very short period. 
StormGain offers trading in six different cryptocurrencies (BTC, BCH, ETH. LTC, XRP & USDT), offering a leverage of up to 200X. The advanced order types like the limit order, market order, stop-loss & take profit along with AI-generated trading signals help users to execute different trading strategies and secure profits. 
It connects to users from over 100 countries, excluding the USA, and serves over 120,000 clients worldwide. The exchange does not require its clients for undergoing KYC or identity verification, which means anonymous trading.
StormGain charges a commission of between 0.06%- 1% for every trade from its users and has an overnight financing rate of 0.40% on swap buy and sell trades. It is also one of the few exchanges that support fiat deposits through credit cards. Users need to make a minimum deposit of 50 USDT to start trading on StormGain.
Why choose StormGain?
High leverage of up to 200X 

A bonus of up to 15% on every deposit

Supports fiat deposits

Competitive trading fee
4. ByBit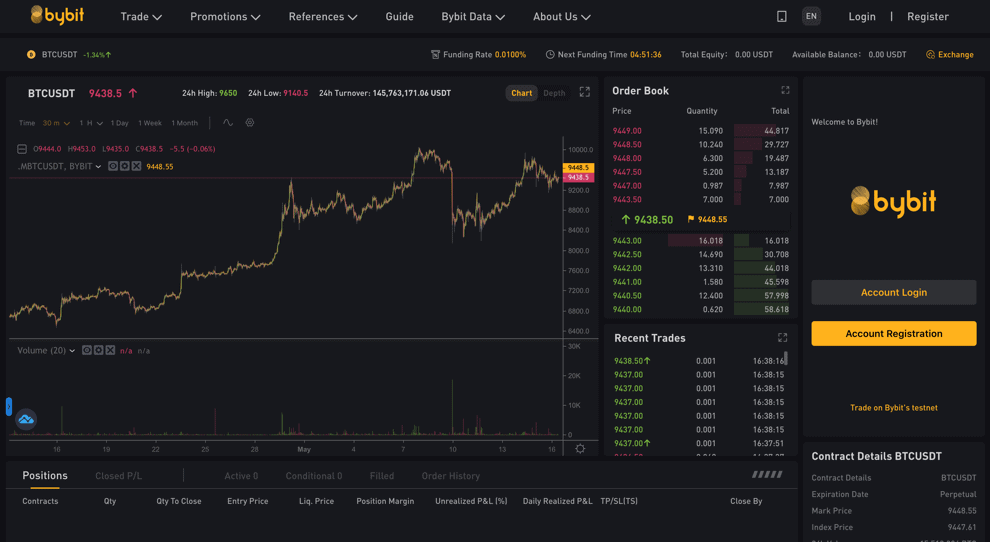 ByBit is a well-known alternative to BitMEX and was founded in March 2018. It specialized in perpetual swaps and offers four different perpetual contracts on the platform that include BTC/USD, ETH/USD. XRP/USD and EOS/USD. It also offers a BTC USD futures contract, only for hedging purposes. 
It offers leverage of up to 100X on BTCUSD and BTCUSDT futures contracts, and up to 50X on the remaining futures contract. The exchange generates over $500 million worth of daily trading volume, which well indicates its market depth and liquidity.
The exchange platform uses an advanced mark & index pricing system to provide the most reliable pricing. And, through an advanced order system, users can directly set take profit & stop loss entry orders. ByBit fully supports anonymous trading, meaning no KYC or identity verification is required.
In respect to trading fees, it offers a makers rebate of 0.025% and taker fees of 0.075% for all futures contracts. The exchange offers its services worldwide, except countries like the USA, Quebec Province of Canada, and countries with economic sanctions. Currently, it serves almost 300,000 clients worldwide.
Want to know more? You can always check out our detailed ByBit Review
Why choose ByBit?
One-click coin swap

Unlimited trades and withdrawal

Good and stable platform suitable for both professional and beginners

No KYC exchange
5. FTX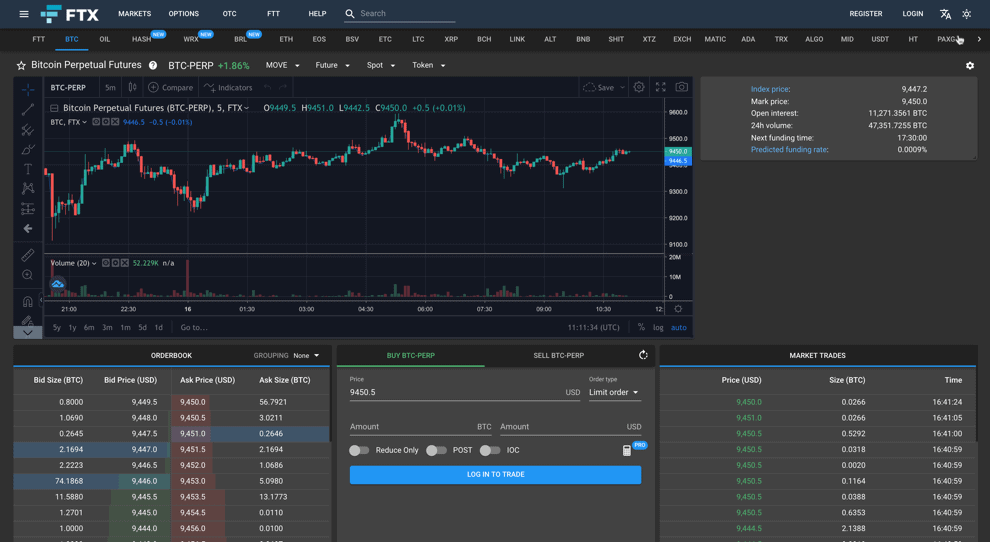 FTX is one of a kind of exchange, that is built by traders, for traders understanding the emerging needs of the segment. Though, the exchange is new in the segment but is powerful enough to support the requirement of retail as well as institutional traders.
Backed by Alameda Research, a top liquidity provider, FTX gives access to a wide range of trading instruments. It includes 45-plus leverage tokens, perpetual swaps for 15 assets, and altcoin indices. The exchange offers maximum leverage of 101X, however, the exchange has a default setting of  10X as maximum leverage for all accounts. 
FTX follows a tiered fee structure which is divided into different slabs according to the last 30D trading volume. The maker fee ranges between 0.01% – 0.2% and taker fee range between 0.04%- 0.07%. 
Users are not required to go for KYC or identity verification to operate the trading account, however, KYC verification is a must for withdrawals above $1,000. And, it offers its services in 100-plus countries excluding the USA, Crimea, Antigua and Barbuda, and countries with economic sanctions.
Want to know more? You can always check out our detailed FTX Review
Why choose FTX?
Wide range of trading instruments

Competitive trading fee

Simple UI/UX

Attractive referral program
6. Binance Futures Exchange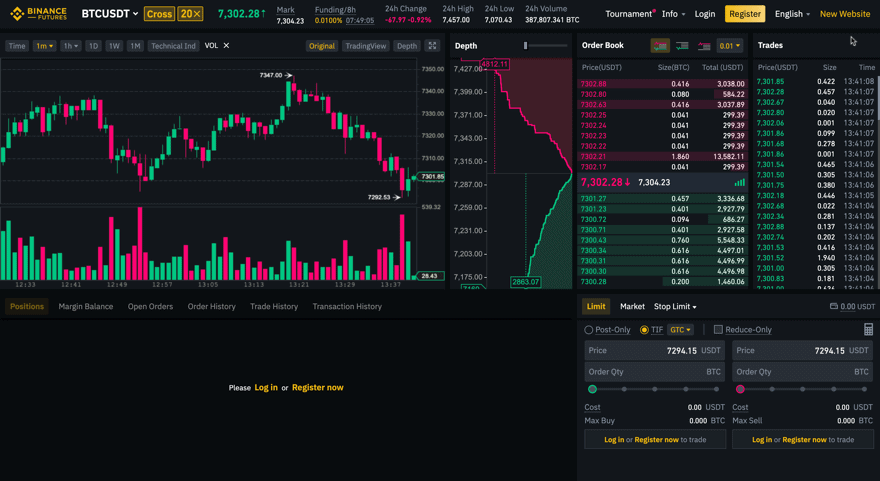 The name doesn't need any introduction. Within months of its launch, the Binance Futures Exchange has successfully established itself as a major player in the segment, surpassing the daily trading volume of its parent exchange. It is now the largest perpetual futures exchange and the largest BTC futures venue.
Binance Futures offers 24 perpetual swaps, with leverage up to 125X on BTC futures and up to75X on ETH  and other futures contracts. Its trade matching engine can handle 100,000 TPS and executes ultra-fast trades with a latency of 5 milliseconds. 
All Binance users need to fulfill the KYC verification requirements to make a trade on the platform. The platform provides higher protection to users for their highly-leveraged trades through its robust risk management system that includes a sophisticated risk engine, smart liquidation model, and insurance fund. 
The exchange has a pretty straightforward tiered pricing structure. It is divided into ten different levels (VIP-0 to VIP-9) according to 30 days of trade volumes. The first level or VIP-0 has a maker & taker fee of 0.020% and 0.040% respectively. And, for level VIP 9, the maker & taker fee of 0.00% and 0.020% respectively.
Why choose Binance Futures Exchange?
Wide range of different crypto futures contract

High liquidity 

Competitive trading fee

An advanced risk mitigation system

Users funds protected against hacking under SAFU Fund
7. Deribit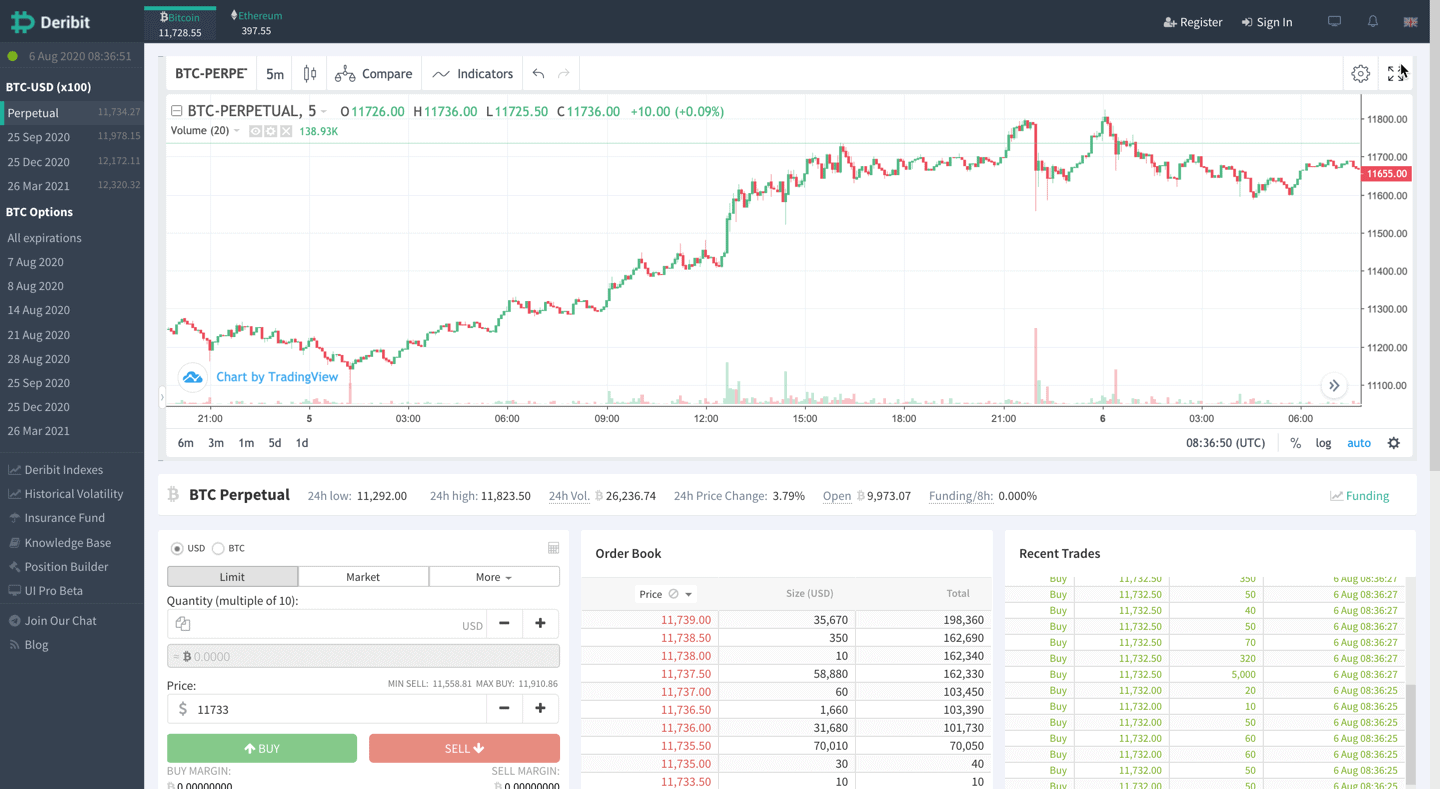 Established in 2016, Deribit is a Netherland based exchange, whose name is derived from the combination of initials of two terms, Derivatives and Bitcoin. It offers perpetual, futures and options in Bitcoin and Ethereum. 
The exchange offers up to 100X leverage on BTC perpetual swaps and up to 10X leverage while trading in options. The platform's trade matching engine handles four types of orders including market, limit, stop-limit, and stop-market. Deribit claims to be the fastest exchange engine in the industry, with a latency rate of less than 1 millisecond.
The exchange has two levels of KYC verification process, (Level 0 & 1), and each offers a different level of trading capabilities to users. For Bitcoin perpetual swaps and futures, the maker rebate is 0.025% and the taker fee is 0.075%. While for Ethereum perpetual swaps and futures, the maker rebate is nil and the taker fee is 0.05%. 
For BTC & ETH options, it is 0,04% of underline or 0,0004 BTC per contract. The fee could not exceed 12.5% of the value of the option. The Deribit's services are available worldwide, however, it is restricted in the USA and its region, Quebec Province of Canada.
Why choose Deribit?
Ultra-fast trade matching engine

Offers all instruments of the derivatives segment

Competitive trading fees
Conclusion
BitMEX is an excellent platform for trading in crypto derivatives, but it lags on several fronts like complex UI/UX, not suitable for beginners, and no mobile app, which makes it a little unattractive for users.
Therefore, if you are looking for a suitable option, the above-discussed options stand out well. However, my preference goes to Binance Futures Exchange and PrimeXBT. They both match the standard of BitMEX and offer a superior trading experience.