Options trading is the best way to start trading in the derivatives segment as it allows an opportunity for greater profit with a minimum financial commitment.
And, by following a more conservative approach through the use of option spread strategies like the bull call spread, covered call writing, collars, bear put spread, you can increase the chances of success.
But, before starting to trade options, you should be able to understand how it works and how the value of a call or put option is affected by volatility, types of option, strike price, change in the price of underline, and time to expiry, also known as the option greeks.
All these factors make options trading more interesting and attract a huge number of traders.
In the cryptosphere, options trading is fairly new, and only a handful of exchanges offer Bitcoin options trading. Therefore, you have a considerably small selection of the best Bitcoin options trading platform to choose from.
If you're looking to try your hands out in the Bitcoin options trading segment, you can consider the following bitcoin options exchange platforms.
Best Crypto Options Exchanges 
Deribit: Bitcoin & Ethereum Futures @ 100x leverage
Delta.Exchange: Many exotic cryptocoins & tokens here for 50x leverage
Binance Futures: World's largest crypto exchange with 100x derivatives
Quedex
LedgerX: Best crypto options trading platform USA
IQ Option
#1. Deribit
Deribit is a reliable crypto exchange that was established in 2016 and has established itself as a leading institutional-grade crypto derivatives platform that also caters to retail clients.
The exchange gives you the ability to purchase European-style cash-settled Bitcoin and Ethereum options. It offers maximum leverage of 10X to trade options with various options strategies.
It provides a clean and simple interface with easy-to-spot necessary details required for trading options. The platform includes a chart of the annualized 15-day historical volatility of the Deribit BTC/ETH index.
Deribit accepts limit and market order and lets you determine the price in three ways, USD, BTC, and implied volatility. When placing an order using USD or implied volatility, the exchange trade engine continuously updates the order to keep the USD value and implied volatility at fixed value as entered in the order form.
Deribit charges a maker and a taker fee of 0.03% of the underlying per options contract regarding trading fees. However, the option fees on the exchange cannot exceed 12.5% of the option's price. At expiry, the settlement fee is 0.015% per option contract and cannot exceed 12.5% of the option's value.
Why choose Deribit?
Institutional-grade powerful trading platform
Low trading fee
Can trade in both BTC and ETH options with up to 10X leverage
No-KYC exchange and has easy account opening process
#3. Delta.Exchange
Delta Exchange is a high-performance Bitcoin and altcoin derivatives exchange established in 2018. It is backed by marquee VC investors, including Kyber Network, Aave, SinoGlobal Capital, BR Capital, etc.
The exchange offers both regular options contract and MOVE options. You can trade in BTC, ETH, XRP, LTC, BCH, BNB, and LINK options contracts with up to 100X leverage.
In the MOVE options, you have to speculate the size of BTC/ETH movements instead of the direction of the movement. If you speculate a short movement, then you should go for short MOVE and likewise.
The platform offers two types of MOVE options- Daily MOVE and Weekly MOVE. In the daily MOVE options type, you need to speculate the price expected in BTC/ETH in 1 day, and in Weekly MOVE, the duration increases to 1 week.
Regarding trading fees for both regular options contracts and MOVE options, the exchange charges a maker and taker fees of 0.05% and settlement fees of 0.05%.
Why choose Delta?
Offers a wide variety of coins for options trading
Competitive trading fees
Simple and intuitive platform interface
Security
#4. Binance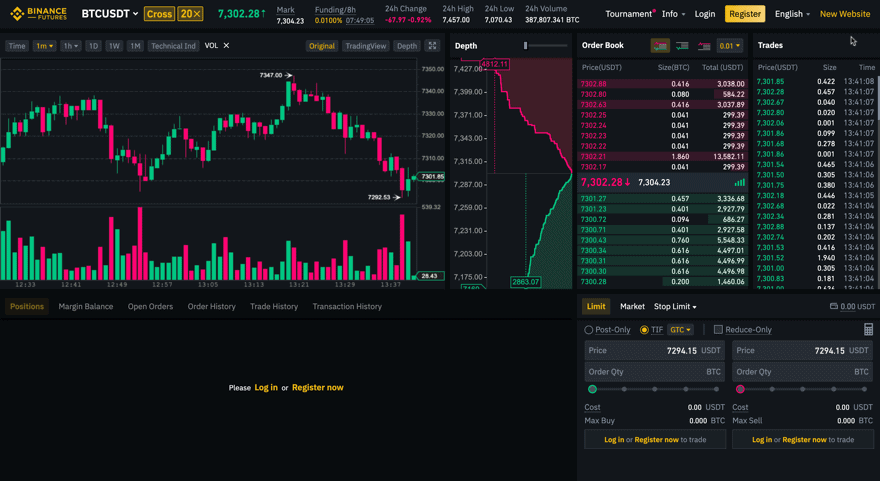 Binance is the leading platform in the crypto derivatives segment and the first exchange platform to gross over $60 billion in daily trading volume.
The exchange is known for a wide selection of trading products in the derivatives segment and high leverage of 125X, the highest in the industry.
It offers to trade European-style Bitcoin vanilla options, where users cannot choose whether to exercise their right before the expiry of the options contract.
Binance has separate options accounts for each user and is priced and settled in USDT. The option contracts have two types of fees on the platform, transaction fee, which will be charged after the transaction, and the other is Fee to Exercise. So, if the option buyer has a profit of greater than 0 when the option is exercised, the buyer will pay a fee.
The transaction fee rate is 0.03% of the underlying value, and the exercise fee rate is 0.015% of the underlying. In the process, the transaction fee will not exceed 10% of the transaction value, and Fee to Exercise will not exceed 10% of the profit gained from exercising the option.
Why choose Binance?
Low fee
High liquidity
Intuitive trading interface
No-KYC platform
#5. Quedex
Quedex is a cryptocurrency derivatives platform founded in 2016. The exchange is registered and regulated in Gibraltar. The exchange offers global derivatives trading standards and is one of the few exchanges that offer entirely Bitcoin-fuelled futures and options.
Traders can buy and sell BTC futures with a maximum leverage of 25x and trade options with up to 10x leverage. The exchange provides two trading platforms: futures and options, so trading should be quite straightforward.
Trading fees on the platform are also relatively low, and they often depend on whether you are trading futures or options. For those using their advanced platform to buy or sell option contracts, the exchange charges 0.04% in maker and taker fees. The futures trading fees are 0.03% for market makers, while market takers pay o.04%.
Traders also have to pay the 0.05% futures settlement fee on the contract expiration date, and there is also a 0.04% fixed fee for auctions.
There aren't deposit or withdrawal fees on the platform, but you might have to pay the BTC network fee. Also, it is essential to note that the digital assets exchange only supports BTC, so you can only add funds from a wallet that supports BTC.
Quedex is one of the most secure platforms for cryptocurrency traders. The exchange uses highly advanced security protocols, including some common ones that other companies use, like mandatory 2FA for accounts. Additionally, the exchange also has a unique risk management system and is one of the few companies that store 100% of the assets in a multi-signature cold storage wallet.
Quedex's ease of use and customer support are other things that make it a good platform. The trading dashboard allows traders to visualize their potential earnings and can even do an option price dynamics analysis.
The exchange provides an advanced tutorial that explains everything you need to know about using the platform. Their customer support is available via both email and phone, and you can also reach them on most social media platforms, including Twitter, Facebook, and LinkedIn.
Why choose Quedex?
Provides high enough leverage for futures and options
Easy to use platform with a detailed tutorial
Relatively low transaction fees
Excellent customer support
100% cold storage
#7. IQ Option
IQ Option is a financial services provider headquartered in Cyprus, and it went live in 2013. Also, it is a regulated company under the jurisdiction of CySEC (Cyprus Securities Excasset'sommission).
The platform offers a wide variety of assets for traders to trade besides crypto as they also have forex, stocks, ETFs, and commodities. If you are a trader that prefers diversification by investing in a wide variety of products and markets, IQ Options is one of your best bets.
For those looking for a profitable exchange for trading bitcoin options, where they can leverage the underlying asset value, the exchange will also work for you. It provides at least two products: binary options and digital options.
They offer bitcoin binary options for traders looking for a fixed return by making a correct prediction on the price movement of a crypto asset. You can make a profit of up to 95% by leveraging on the underlying asset's volatility. Also, you can invest as little as $1, and there are no brokerage fees. The expiry date for these contracts is anywhere from 60 seconds to one month.
The digital options allow traders to speculate on the extent of the price movement in either direction. Here the payouts will be as high as 900% if the price moves as predicted. You can invest as little as $1. However, these are short-term investments that will expire in 6o seconds to 15 minutes.
The IQ Options offers various trading tools to support trading on both their web-based platform and mobile app. They include 15 technical indicators and 5 charting tools, including Area, Bars, and Candles.
Traders on the platform can choose to open either a standard or VIP account. The exchange makes their trading fees transparent and has no hidden charges. They charge spread fees when you buy and sell crypto, and they keep updating the rate as it changes with market movement. Also, there is a custodial fee that ranges between 0.25% and 2.5%.
Why choose IQ Option?
Offers both binary and digital options
Regulated exchange
Lots of helpful trading tools
FAQs
What is a cryptocurrency options contract?
Options are a type of crypto derivatives. Like any other derivatives contract, they are an agreement to buy or sell an underlying asset. Traders do not have to hold the asset physically, but the option contracts will be traded at a price that depends on the underlying asset's market price.
Options contracts are very similar to futures trading. However, unlike futures contracts, traders only have a right to buy or sell assets before the maturity date and not an obligation. These contracts allow traders to opt out of the trade if the market movement does not favor their position.
For example, if you buy a BTC options contract that requires you to buy a certain number of assets at a predetermined price in the future, you have the option not to exercise your right if the strike price will not move in the direction you predicted.
Most crypto exchanges allow both institutional and retail traders to buy and sell options contracts. However, some exchanges will only have products for large institutional investors.
Where can I trade crypto options?
Options are among the most popular crypto derivatives and probably only come second to futures. Therefore, most crypto trading platforms that allow you to leverage on the price of an underlying asset will also support options trading.
Some of the best places to trade options for global traders are Deribit and Binance futures. For US traders, there are fewer choices given that they are only a few platforms licensed to offer derivatives. US investors can purchase options on exchanges like Kraken.
Before settling on any crypto trading platform for options investment, it is crucial to consider factors like the crypto assets they support for options contracts and whether they allow you to use fiat currency when purchasing options.
Also, consider the maximum leverage and make sure it is high enough to help amplify your earnings and ensure the platform does not charge high trading fees, as this can eat up your profits.
Is crypto options trading legit?
Crypto options are financial derivatives, and they are legal to trade just like others such as futures. Options allow traders to lower the cost and risk of trading in digital assets.
Unlike futures, they give traders a right to buy or sell digital assets at a predetermined price before the maturity date. Since it is a right and not an obligation, traders can opt out if the market does not go their way or they change their mind on the trade.
That said, in some places like the US, you have to use a regulated exchange for your options trading. For the jurisdiction, it is also essential to make sure you use reputable options trading platforms.
Also, it is essential to note that while options trading allows you to execute low-risk crypto trades, it does not cure the volatility of digital assets. So you still need to have a good risk management strategy.
What is the minimum investment for trading options?
Different crypto exchanges will package their products differently. Therefore, the minimum you will need to invest in crypto options will largely depend on the specific platform you are using.
Many exchanges have a minimum trade of between $5 and $10, meaning this is also likely all you will need to open an options position. However, some exchanges will offer options in a specific lot size, so you have to make sure you can afford at least one lot to trade options on such platforms.
Some crypto exchanges like IQ options will require a minimum investment of just $1, making options trading on such an exchange more affordable. However, keep in mind that there are also some purchase fees associated with the trade, so you should have enough funds in your account to cover them.
Another way to open a large options position without making a huge investment is by choosing an exchange with high leverage. For example, Binance allows you to use up to 20x, which can be very useful in amplifying your position with a small actual investment.
Does Coinbase crypto exchange have options trading?
Coinbase does not offer crypto derivatives like futures and options on their main Coinbase platform and their Coinbase Pro platform.
However, the exchange recently purchased Fairx exchange, an existing crypto derivatives exchange, and so it will soon start offering futures and other derivatives such as options.
Despite not having a robust crypto derivatives market, Coinbase still provides many other ways of earning from the platform besides spot trading. The exchange allows you to earn as you learn more about crypto and makes it possible for traders to borrow using their crypto as collateral.
Conclusion
Options trading requires a higher degree of skills as you have to place trade keeping multiple factors in mind, and miscalculation even one factor can lead you to a big loss.
Thankfully, several indicators and tools can be used to check whether the trade will yield profit or not. And selecting a good cryptocurrency options exchange helps you to get access to these indicators and tools.
The above-discussed crypto options exchange provides the best trading experience with access to advanced trading tools and indicators.