Compared to spot trading, cryptocurrency futures trading is very demanding in nature. It requires the right skill and platform to succeed in the market.
The interesting part is that the trades are made on borrowed funds (leverage), making it riskier but rewarding. In case of loss, you've to pay the amount back to the exchange with interest. 
In cryptocurrency futures trading, timing, skills, and exchange platforms are crucial to profit from the market; else it will break your back. 
Therefore, you need to select the exchange that offers advanced trading tools, best-in-class liquidity, a clean interface, and can execute orders with speed. 
7 Best Crypto Futures Trading Platform
#1. Bybit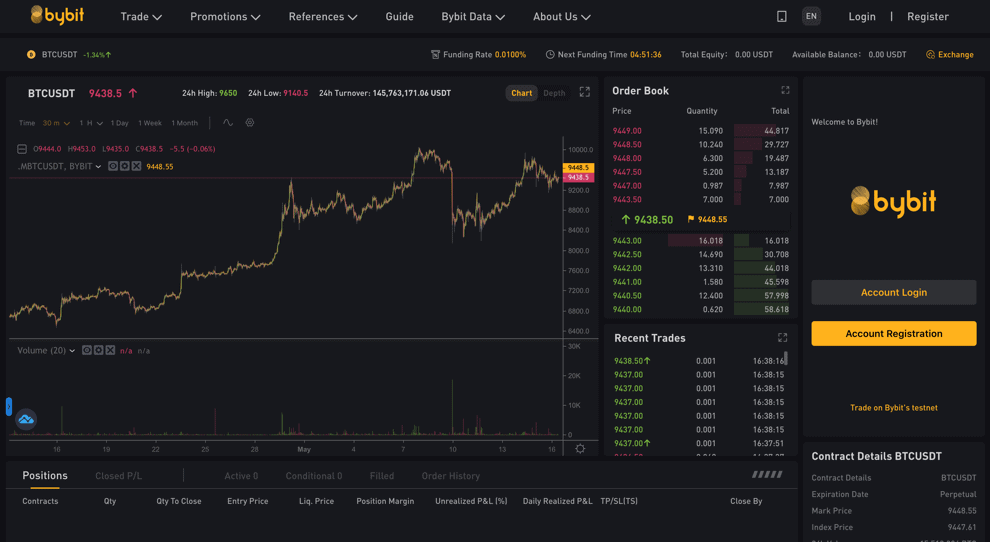 Bybit is a Singapore-based global crypto futures exchange launched in March 2018 and is credited for increasing retail participation in the futures market.
It is one of the fastest-growing futures exchanges in the market and is trusted by over 1.6 million users. And is constantly ranked within the top 5 crypto futures exchanges by trading volume. 
The exchange offers to trade in inverse perpetual contracts (BTCUSD, ETHUSD, XRPUSD, EOSUSD), linear perpetual contracts  (BTCUSDT, ETHUSDT, BCHLINK, LINKUSDT, LTCUSDT, XTZUSDT, ADAUSDT, DOTUSDT, UNIUSDT), and inverse futures contract (BTCUSD quarterly).
Bybit offers maximum leverage of up to 100X on BTCUSD and BTCUSDT contracts and up to 50X on the rest of the futures contracts. 
It features a powerful and smart trading system suitable for high-frequency trading in the futures market. The trading fees on the platform are minimal and competitive. It offers a maker rebate of 0.025% and charges a taker fee of 0.075%. 
#2. PrimeXBT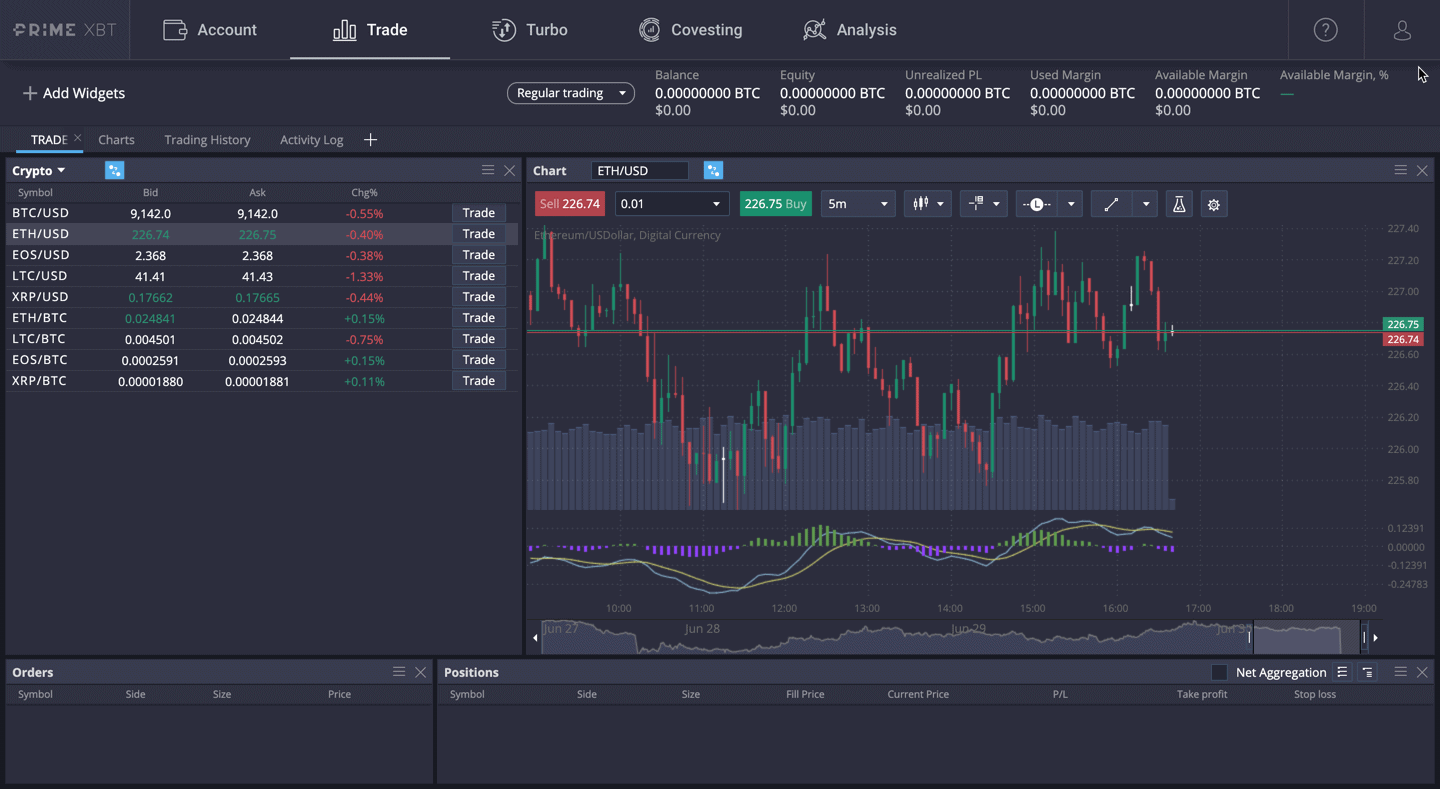 PrimeXBT is an award-winning crypto futures platform used worldwide and is well-renowned for its platform technology and trading infrastructure. 
Based in Seychelles, PrimeXBT is a multi-asset exchange established in 2018 and offers margin trading in five different cryptocurrencies, BTC, ETH, LTC, XRP, and EOS, and offers maximum leverage of up to 100X. The minimum order size on the platform is 0.001BTC. 
The exchange is integrated with 12+ liquidity providers and has an order execution speed of less than 7.12 ms. You can also take advantage of the PrimeXBT Covesting platform, which allows you to copy the trading strategies of successful traders and succeed in the margin trading of futures.
The exchange has a flat fee structure and charges a commission of 0.05% on all types of trading fees trade. The daily funding rate on the platform differs with the change in market conditions.
#3. FTX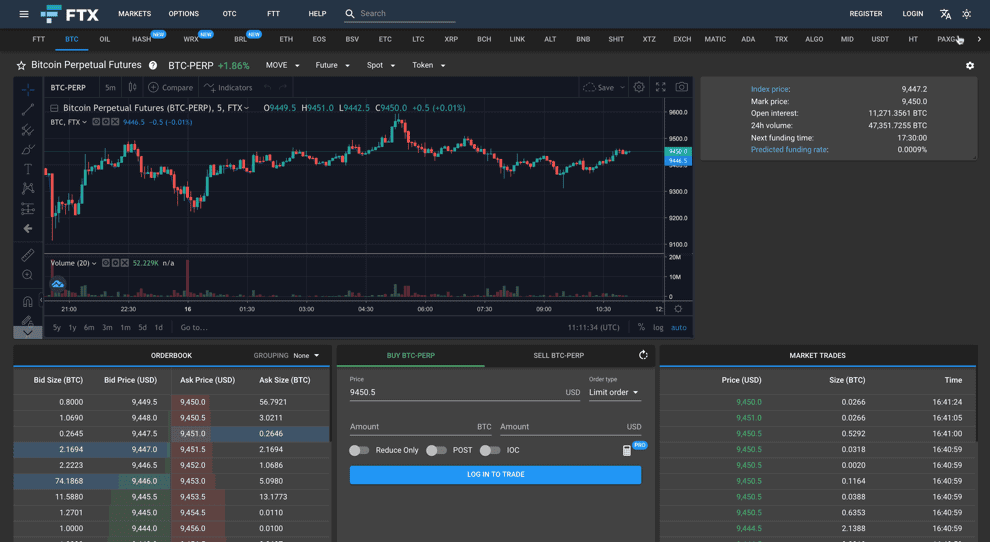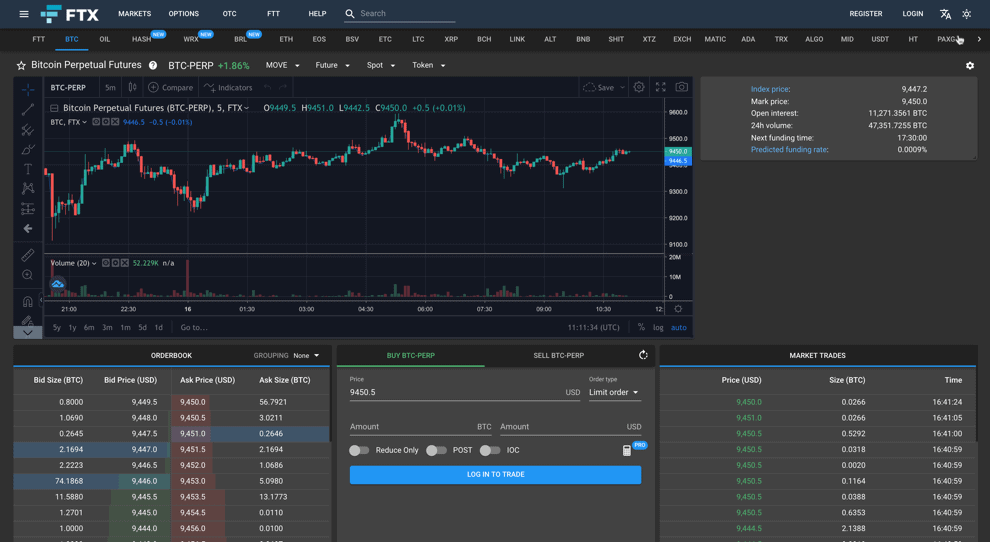 FTX is a leading and popular cryptocurrency futures exchange platform in the market and offers a wide range of futures trading options. 
Launched in November 2019, FTX is incubated by Alameda Research (a top global liquidity provider) and is backed by industry bigwigs like Binance, Bitfinex, Circle, FGB Capital, etc.
The exchange offers to trade in 150 perpetual and quarterly futures, leverage tokens, BTC option, FTX's proprietary MOVE contracts with a maximum leverage of up to 101X. 
Other platform features include all futures contracts settled in USD, flexible collateral (can take a position in BTC-perp by providing ETH as collateral), cross-margin, subaccounts, and a robust risk management framework. 
The trading fees on the platform are based on the last 30-day trading volume and are divided into six-level. Under the first level, with a trading volume of less than $2,000,000, the maker fee is 0.02%, and the taker fee is 0.07%. FTT token holders are offered a discount on trading fees of up to 60% based on the quantum of holding. (Don't forget to read our hands-on FTX Review)
#4. Phemex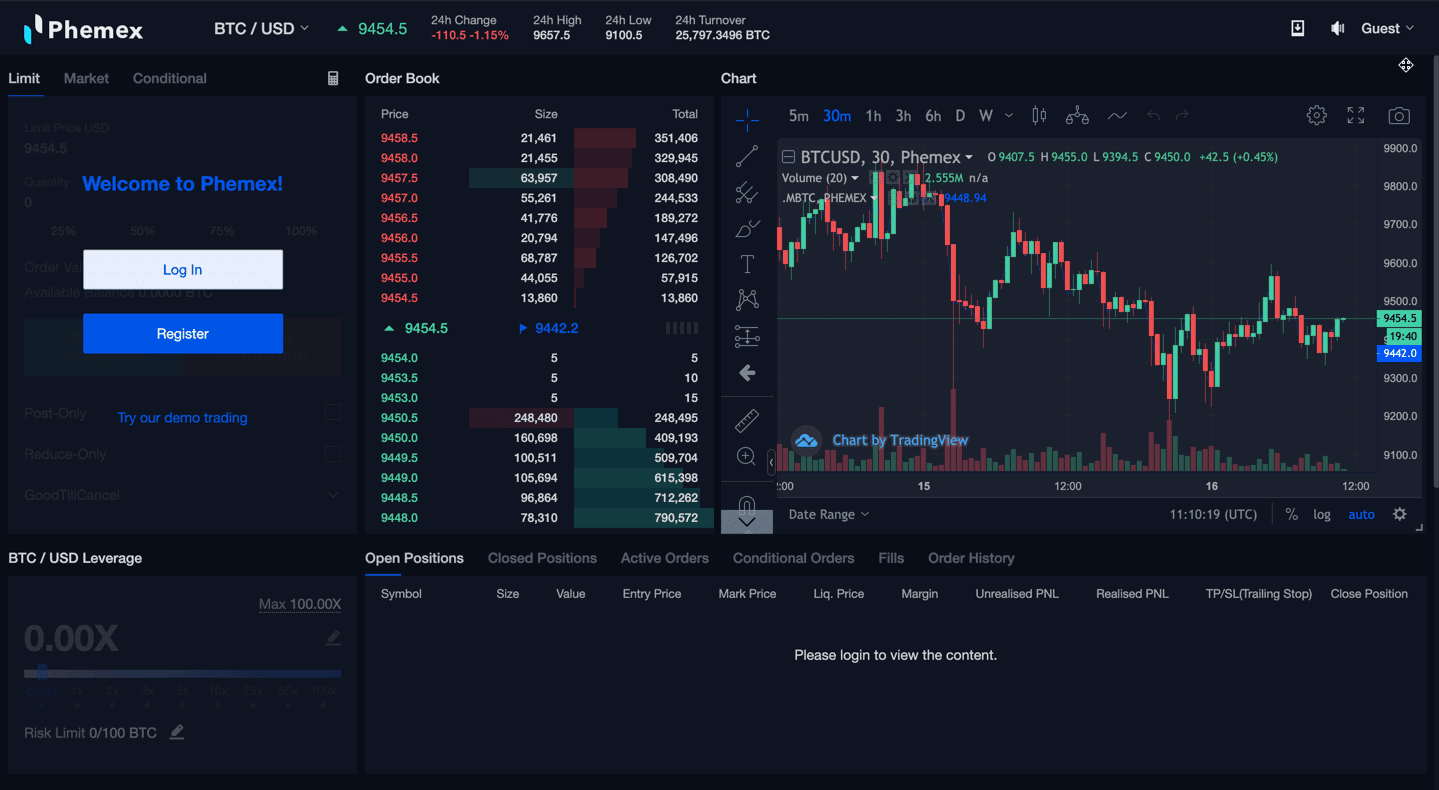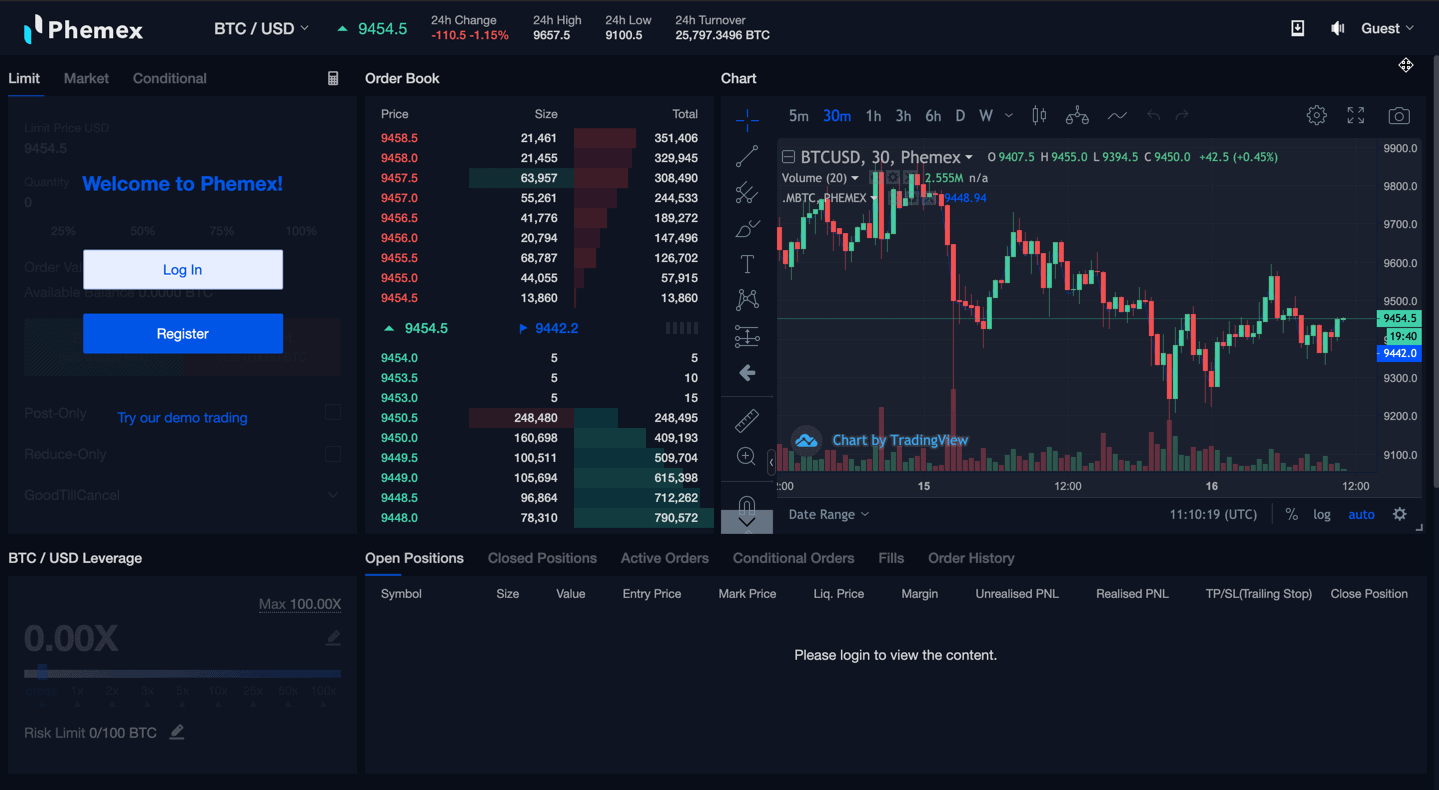 Phemex is a Singapore-based spot and futures exchange with a simple and easy UI suitable for beginners and professional traders. 
The Phemex exchange was started by eight former Morgan Stanley executives and was launched in November 2019. In a short span, the exchange has attracted over a million traders and gets an average daily trading volume of more than $1.1 billion. 
Phemex offers margin trading in 15 different cryptocurrencies with a maximum leverage of up to 100X on BTC perp and up to 20X on the rest of the futures.
It is a high-performance crypto derivatives trading platform having the capacity to process 300K transactions per second, with an order response time of less than 1 millisecond. Other advanced functionalities include FIX API for institutional traders and Sub-accounts for quantitative traders.
Regarding trading fees, the taker fee is 0.075% and offers a maker rebate of 0.025%. 
#5. Binance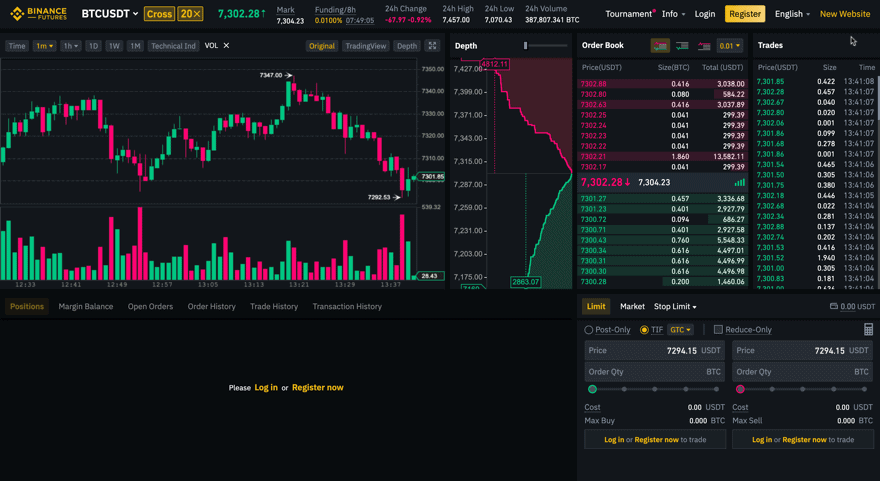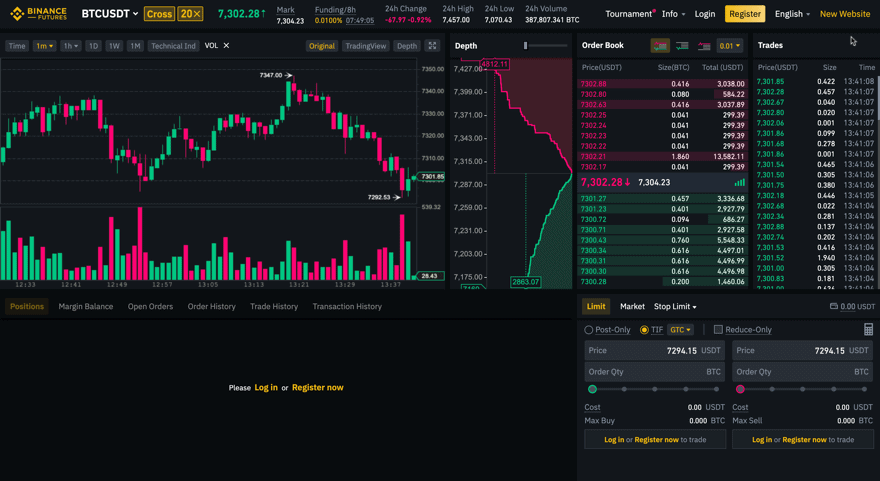 Binance Futures is the leading crypto futures trading exchange and has set a benchmark in the market in terms of product offering, trading volume, and leverage. 
Binance got into the futures market in early 2020, and in a short span, it has become the top crypto futures exchange, grossing a daily trading volume of over $60 billion.
The exchange has become the preferred choice for professional and institutional traders. It offers to trade in USDT-margined perpetual and quarterly futures, COIN-M (token margined with or without expiry futures contract), BTC options, and leveraged tokens. You can trade futures with a maximum leverage of up to 125X. 
Other exchange features include an industry-leading matching engine that can manage 100,000 TPS with a minimum latency of 5ms, deep liquidity with minimum slippage, a trading platform compatible with multiple devices, etc. 
The trading fees are competitive and have a 10 tiered fee structure, starting from 0.02% as maker fee and 0.04% as taker fee.  
Interested in Leverage Trading? Here are some of the best crypto leverage trading exchanges of 2021
#6. Kraken
Kraken is an ancient cryptocurrency exchange platform known for its amazing customer services and fast bank withdrawals. 
It is a US-based exchange set up in 2011 and launched its services in 2013. The futures segment offers perpetual futures trading in XBTUSD, ETHUSD, LTCUSD, BCHUSD, and XRPUSD with a maximum leverage of up to 50X. 
With a decade of experience in the cryptosphere, Kraken has vastly improved customer offerings based on customer suggestions and evolving market requirements. The platform interface is customizable, has added tooltips and a simplified order form. It also facilitates discreet trading through its dark pool feature. 
It has a tiered transaction fee structure, with maker fees starting from 0.02% and taker fees from 0.05%. 
#7. Deribit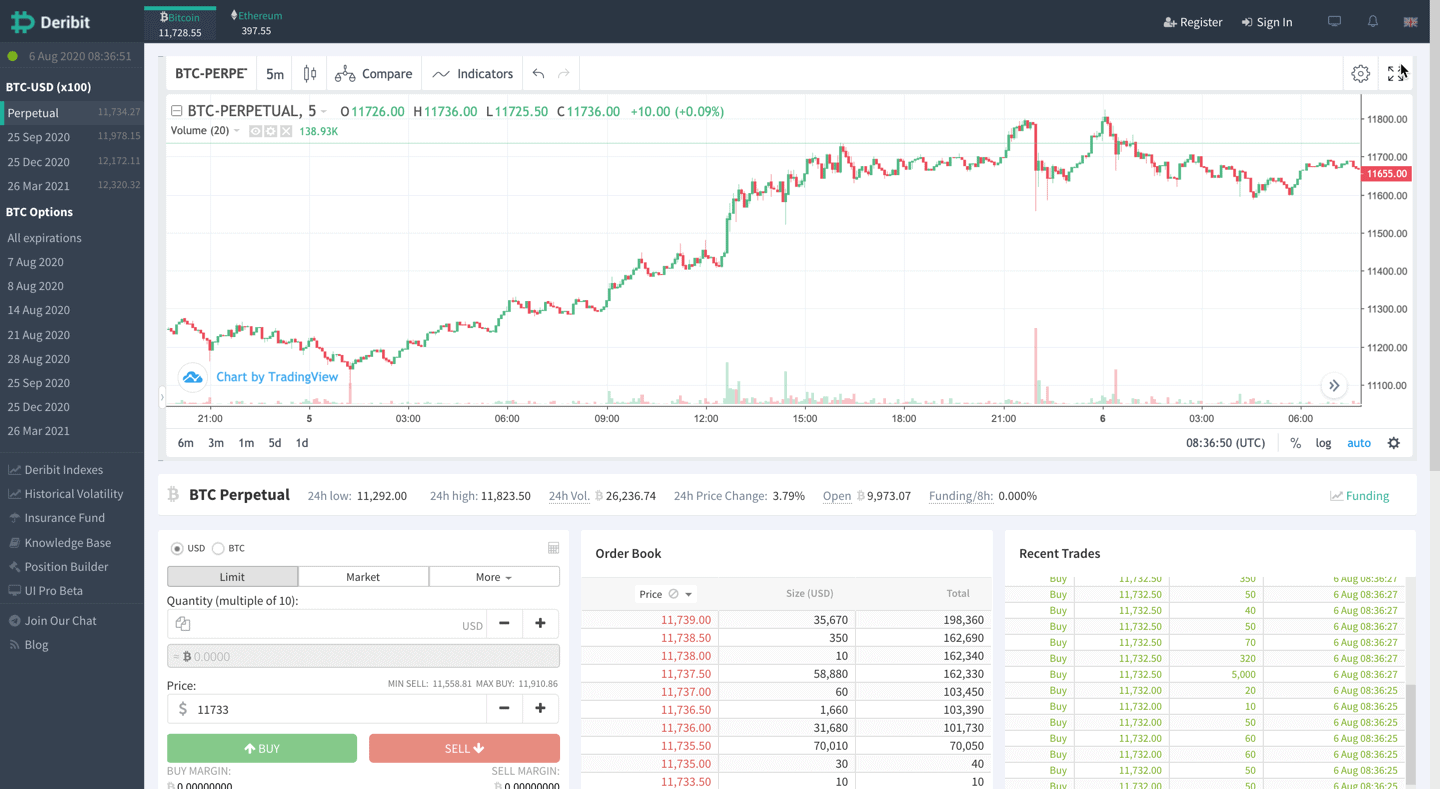 Deribit is an institutional-grade crypto futures exchange that started its operation in 2016 and is based in the Netherlands. 
This crypto exchange offers to trade in options, perpetual and traditional futures of both Bitcoin and Ethereum. It offers maximum leverage of 100X on Bitcoin futures contracts, 50X on Ethereum contracts, and 10X on options. The minimum contract size on the platform is $10. 
Deribit API integrated with third-party trading bot software like HAASONLINE, FMZ Quant, and Actant. The platform features dark and light mode and supports multiple order types like Limit, Market, Stop-limit, and Stop-market. 
The trading fees on the platform differ according to the type of futures. It offers a maker rebate of 0.01% on BTC weekly futures and charges a taker fee of 0.05%. For BTC/ETH perpetual, the maker fee is NIL, and the taker fee is 0.05%. And, for BTC/ETH options, both maker and taker fee is 0.03%. 
Conclusion
Selecting the best Bitcoin futures trading platform is not an easy task. The exchanges discussed above are some of the best of the industry and make a major portion of the market. 
You should select based on your requirements and platform preference. Choosing an exchange should not be based on higher leverage or trading fees, but it should be based on liquidity, platform interface, and speed. 
So happy trading !!